csr-social-education
Home

>
Education

Academiaindustry collaboration with universities in Japan and abroad
Collaboration with research institutes, universities and companies in dissimilar fields
In order to develop technology that can contribute to the advancement of culture and society, ROHM considers it essential to build strong relationships with research institutes, universities and companies in dissimilar fields and take on cooperative initiatives. In particular, to promote academic industrial collaboration, the ROHM Group actively pursues academic industry collaborations with countries outside of Japan, such as the U.S. and China, and undertakes cutting edge research and development of products that match the needs of each local region.
Spreading the joy of manufacturing to more children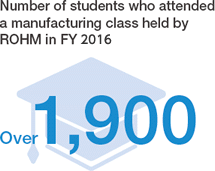 Manufacturing class for elementary school students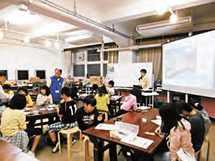 In recent years, there have been fewer opportunities for students to experience manufacturing, and as a result they are becoming less interested. In response, the ROHM Group holds manufacturing classes for students from elementary school to university at the company.
For the elementary school student classes, ROHM collaborated with the Kyoto City Board of Education to provide the students with an opportunity to experience the joys of manufacturing by teaching the students about light's three primary colors and the energy-saving effect of LEDs, then having them combine a 3-color LED with a resistor (ROHM's pioneering product).
Similar activities are carried out at ROHM Group bases around the world. For example, the production base in Malaysia collaborates with local technical schools to hold classes about soldering and other topics and share in the fun of making things.
Global support for future engineers
JSSF workshop held at ROHM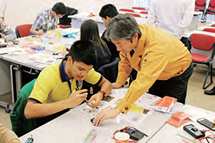 The ROHM Group supports future engineers through various activities ROHM has participated in The Japan Super Science Fair (JSSF) since 2013. Hosted by Ritsumeikan Senior High School, approximately 200 science students from high schools in 21 different countries come to Kyoto to interact and learn about science together.
At the workshops given by ROHM employees over two days, students received an overview of how electronic circuits work, after which they made c i rcuits of their own using actual electronic parts. They then considered and gave presentations on how those circuits could be used to benefit society.
Through this experience, we hope to help develop as many engineers as possible who can create value for society in the future.
A message from JSSF participant
JSSF Science Exchange Association
My company visit to ROHM was very stimulating. The workshop on electrical circuits was the best part. I was able to learn about the latest technologies, such as the wireless switches used in electronic appliances. I'm looking forward to seeing what kinds of revolutionary technologies that ROHM will invent in the future.
Camborne Science and
International Academy
Bethany Fenn
Scene of students competing tasks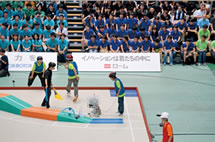 Sponsoring both NHK Students and Asia-Pacific Broadcasting Union (ABU) Robocons
The ROHM Group sponsors various events to support young engineers. The sponsoring of a robot contest is one of them. Duringthe NHK Students Robot Contest held in 2016 under the theme "Energy," students participated in time competitions to clear courses and complete tasks by controlling two robots.
Device Plus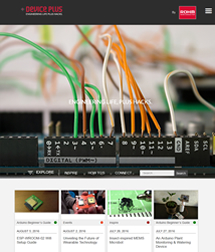 Manufacturing articles posted on the technology information website Device Plus
Device Plus is a technology information website for students and young engineers responsible for manufacturing in the future. On this site are reports about Robocon competitions, instructions on how to create electronic circuits, and other useful information. In November 2016, the Japanese version of the website received over 180,000 visitors in a single month.
Support for students
Workshop for presenting the results of internships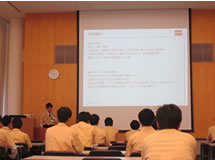 Internships
ROHM started accepting interns in 2008. In 2016, the company welcomed 47 interns. As part of a university summer internship program we sponsored, the interns took part in practical work at each department and presented the results of what they had learned through their internships. Furthermore, we are also accepting mid- and long-term interns following the university internship program.
ROHM also expands communitybased efforts in other countries by offering internships to local college students at sites in Thailand, China, etc. ROHM will continue to provide students with an opportunity to think about their vocational aptitude and future plans through internships, and help develop the young generation via academicindustrial collaboration.
Support for Kyoto Students' Festival
ROHM is one of the main sponsors of the Kyoto Intercollegiate Festa, and it has supported the event since its inception.For the 14th Kyoto Students' Festival held in 2016, we set up our own booth at the event. A hand-made game booth run by our prospective employees is held every year. The booth staged a ball throwing game throughout Okazaki Park, and a long line formed for this popular event. Okazaki Park is also the location of ROHM Theater Kyoto, which opened in January 2016.
ROHM will continue to be a company that supports students, while also being proactively involved in various activities in cooperation with industry, government, academia, and the local community.
Students' festival