ROHM has recently announced the availability of a DC/DC converter with integrated MOSFET that achieves the lowest current consumption in the industry, making it ideal for compact battery-driven devices including IoT, wearables, and portable equipment.
The BD70522GUL is an ultra-low-power converter designed to meet the needs of the IoT market to deliver 10-year operation on a single coin battery. Combining its vertically integrated production system that leverages power expertise with proprietary Nano Energy technology developed utilizing industry-leading analog expertise in circuit design, layout, and processes has allowed ROHM to deliver an unprecedented current consumption of just 180nA (nano→10-9). This makes it possible to increase battery drive time by 1.4x over conventional products at no-load (standby), contributing to longer battery life in electronic devices powered by coin-type batteries (i.e. CR2025). At the same time, power conversion efficiency greater than 90% is achieved over the industry's widest range, from light to max. loads (10uA to 500mA).
Key Features
1.Industry-low 180nA current consumption – achieved utilizing proprietary Nano Energy technology
Utilizing Nano Energy, an original technology created by leveraging original low-current analog technologies covering control circuitry, analog element layout optimized for the power supply IC, and 0.35um BiCDMOS power processes, made it possible to achieve a breakthrough current consumption of 180nA.
As a result, in the case of no-load (standby) operation battery life can be extended by 1.4x over conventional solutions. (ROHM study)
2.High efficiency over a wide load current range
In addition to the low-loss MOSFET, a Seamless Switching Mode Control (SSMC) function is built in that smoothly and automatically switches the load mode based on load current, allowing ROHM to develop a DC/DC converter capable of delivering a power conversion efficiency of more than 90% over the industry's widest load range (10uA to 500mA) – while consuming less than 1uA. This contributes longer battery life in a wide range of devices and applications.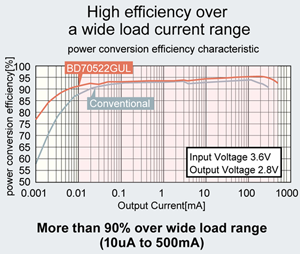 Specifications
Part No.
Input Voltage Range
Output Voltage
Current Consumption
Output Voltage Accuracy
Operating Frequency
Max. Output Current
Operating Temp. Range
BD70522GUL
2.5V ~ 5.5V
1.2V, 1.5V, 1.8V, 2.0V,
2.5V, 2.8V, 3.0V, 3.2V, 3.3V
180nA
(Typ.)
±2.0%
0.2Hz ~ 1MHz
(Typ.)
500mA
-40℃ ~ 85℃
Target Applications
Wearables and portable devices
Compact battery-driven IoT (i.e. sensors nodes)
industrial equipment (e.g. alarms, electronic shelf labels)