The BD99954GW/MUV generates a charging voltage from 3.07 to 19.2V for 1 to 4 cells through boost-buck control for USBPD. In addition, the industry's first dual-input charging system automatically switches charging operation without an MCU using an original built-in charging adapter function. And support is provided for both USBPD and USB BC 1.2. This facilitates configuration of dual-mode systems capable of simultaneous charging via USBPD, wirelessly, or from an AC adapter.
Sample

Facilitates configuration of the industry's first simultaneous dual-mode charging system
To support the 2 predominant charging methods for the latest portable devices, ROHM developed the industry's first 2-input charging system. A built-in charging adapter discrimination function enables automatic switching between modes without an MCU. This eliminates the need to mount and adjust external peripheral components such as transistors and resistors typically necessary for each charging system (for charge path switching and backflow prevention), significantly reducing both mounting area and design load.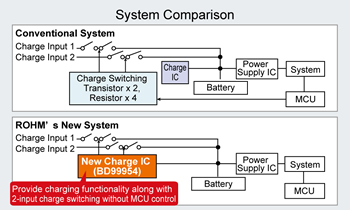 Supports the latest USBPD standards through boost-buck control
Step-up/down control makes it possible to generate the charging voltages necessary for USBPD operation (5V to 20V). For example, when charging a 2-cell battery (~8.4V), boost-buck control enables step-down operation from 20V to 8.4V as well as step-up from 5V to 8.4V.
In addition, compliance with the popular USB BC1.2 and USBPD standards provides support for both conventional USB and the newest USB PD charging protocols.
Lineup
Part No.
No. of Inputs
Supply Voltage Range
Charge Voltage Range
Switching Frequency
Operating Temp. Range
Package
BD99954GW
2ch
3.8~ 25V
3.07 ~ 19.2V
600 ~ 1200KHz
-30 ~ 85℃
UCSP55M3C
2.6mm x 3.0mm x 0.62mm
BD99954MWV
UQFN040V5050
5.0mm x 5.0mm x 1.0mm
Applications
■ Notebook PCs ■ Tablets PCs ■ Smartphones
■ Portable Batteries ■ Wireless Audio 
100W Portable Battery-Equipped Devices