The BD99954GW/MUV generates a charging voltage from 3.07 to 19.2V for 1 to 4 cells through boost-buck control for USBPD. In addition, the industry's first dual-input charging system automatically switches charging operation without an MCU using an original built-in charging adapter function. And support is provided for both USBPD and USB BC 1.2. This facilitates configuration of dual-mode systems capable of simultaneous charging via USBPD, wirelessly, or from an AC adapter.
Sample

Background
A growing number of portable devices, including notebook PCs, are adopting the USB Type-C PD standard that can charge up to 100W, providing a common charging platform. At the same time wireless charging is gaining traction, increasing the demand to support both charging methods. However, in order to deliver a wide power supply range required by USBPD, a boost function must be added to the system to charge 2-cell (~8.4V) batteries from conventional 5V chargers. Also, enabling two different charging methods to operate at the same time requires mounting charge ICs along with peripheral components as well as an MCU to control charge switching, presenting a significant barrier to introduction.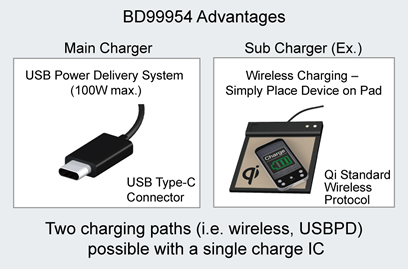 Terminology
USB Power Delivery (USBPD), USB BC1.2

Power standards established and promoted by the USB Implementer Forum, Inc. (USB-IF). USBPD is the newest standard that enables power supply up to 100W (20V/5A), whereas USB BC 1.2 is the conventional standard specifying power supply up to 7.5W (5V/1.5A). ROHM offers control ICs for USBPD.

Wireless Charging

Technology that is quickly attracting attention due to the ability to charge without the need for a power cord, improving device connector resistance to water and dust while providing greater convenience by enabling a single power supply to charge multiple different devices. Portable devices that support wireless charging can be charged by simply placing the device on a charging stand/pad (or moving it close to the charger).