New RASMID™ lineup of micro devices developed using innovative, breakthrough technologies Ultra-compact components that offer breakthrough levels of miniaturization utilizing completely new techniques
*ROHM Sept. 2013 survey
RASMID™ is a trademark of ROHM Co., Ltd.
What is RASMID™ ?
Resistors: Relative size vs. a 0.5mm lead for a mechanical pencil
In recent years, following the increasing sophistication and miniaturization of electronic devices comes a need for greater compactness at the component level. ROHM has been a pioneer in miniaturization technology, and is continually cultivating new methods to achieve the smallest devices in the industry. In 2011 ROHM developed chip resistors measuring just 0.3x0.15mm, smaller than the 0402 (0.4x0.2mm) size, which at the time was considered the limit of miniaturization. And in 2012 launched the industry's smallest* Zener diodes (0.4x0.2mm).
Currently, we are shipping samples of 03015-size chip resistors and 0402-size Diodes.
ROHM utilizes breakthrough processes and technologies to develop our new lineup of RASMID™ lineup of products featuring unprecedented miniaturization and superior dimensional accuracy (±10um).
Going forward, we will continue to pursue product miniaturization and cultivate technologies (i.e. mounting technology) to achieve practical realization while expanding our current lineup of RASMID™ products.
Unmatched Dimensional Accuracy
Novel processes are utilized to achieve a dimensional accuracy of ±10um,
resulting in the smallest form factors in the industry
03015-size (0.3mmx0.15mm) Resistors
44% smaller mounting area vs. conventional 0402-size resistors
Samples shipped from January 2012, with mass production started in April 2014
0402-size (0.4mmx0.2mm) Zener Diodes
Mounting area reduced by 56% compared with conventional 0603-size products
Samples shipped from October 2012, with mass production started in February 2014
0603 (0.6mmx0.3mm) size TVS diodes
Reduces clamp voltage by 30% over conventional 0603 size diodes
Samples shipped from June 2014, with mass production started from October 2014
Percentages for mounting area were rounded off to the nearest integer
03015-Size chip Resistors
RASMID™ technology involves not only product miniaturization, but methods and techniques (i.e. in the mounting process) that can enable practical realization and commercialization as well. The result is a superior dimensional accuracy (less than ±10um), making it possible to develop breakthrough 03015-size products. In addition, after repeated discussions with mounting equipment manufacturers a zero defect rate was able to be achieved - even during mounting evaluation using a large sample size.
Mass production of the world's smallest* chip resistors already underway at ROHM's Apollo (Fukuoka) facility.
We will contribute to further end-product miniaturization by promoting the development of even smaller 0201-size (0.2x0.1mm) products.
Sample shipments scheduled to begin in 2015.
1. The world's smallest* (03015 size: 0.3mmx0.15mm)
chip resistors developed using original process technologies
2. Chip dimensional precision improved from ±20μm to ±10μm

3. Successful history of resistor miniaturization


0402-Size Diodes
ROHM utilizes breakthrough proprietary manufacturing technologies to produce the RASMID™ series of Diodes in the industry-leading 0402 size (0.4x0.2mm) ideal for high density applications such as smartphones and other portable devices.
Manufacturing will be conducted at ROHM's Apollo (Fukuoka) facility. Samples are available now for shipment (20 yen/unit), with mass produced products offered from April 2014.
1. The world's smallest size (0402 - 0.4mmx0.2mm) achieved using original process technology
These new diodes reduce volume by 82% over conventional 0603-size products, contributing to greater miniaturization and higher performance in applications requiring a thin, compact form factor, such as smartphones and digital cameras.
2. Chip dimensional precision improved from ±20μm to ±10μm

3. Extensive history of diode miniaturization

0402-Size DiodesProduct Search Page 0402-Size Zener DiodesProduct Search Page

Zener diodes and low voltage protection diodes are used as protection elements in a variety of circuits.
In recent years, miniaturization and enhancement of electronic devices have progressed, requiring even more sophisticated protection elements and TVS (Transient Voltage Suppressors). When transient voltages and currents are generated in the circuit they are absorbed by the actions of the TVS, but low clamp TVS that further reduces the load on the protected application is required.


0603-Size TVS DiodesProduct Search Page

The 0402 (1006) size QDZ5.6 series is 81% smaller than the 1005 (2531) size TDZ5.6 series while improving PD from the standard 100mW (for the 1006 size) to 200mW. In addition, compared to the equivalently sized (0402/1006) CDZV5.6B series, PRSM tolerance is improved by up to 18 times, providing unsurpassed surge resistance characteristics.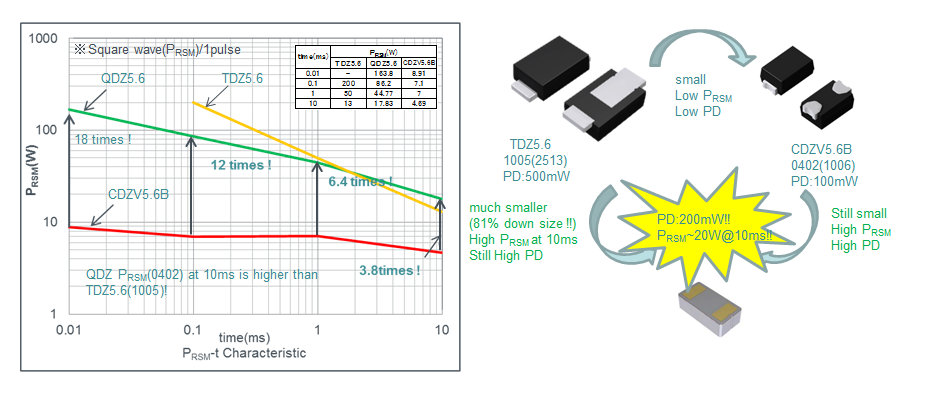 10 times the current rating of conventional 100mA products in the 1006 (0402) size is achieved (1A). ROHM's RASMID® technology provides greater miniaturization and power handling capability.
Related Information