Overview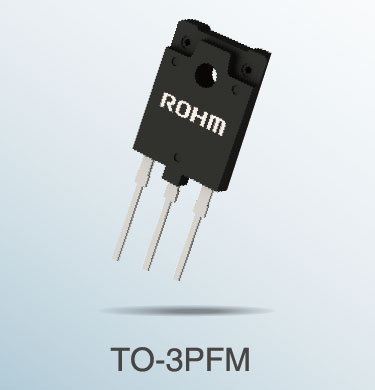 SiC is attracting much attention as a next-generation compound semiconductor due to its superior characteristics over silicon.。
Auxiliary power supplies used in high voltage, high power industrial equipment typically utilize high voltage (>1000V) silicon MOSFETs. But by replacing these with high efficiency SiC MOSFETs heat generation can be significantly reduced, eliminating the need for external parts such as heat sinks.
ROHM has recently expanded its considerable lineup by offering 1700V class SiC MOSFETs along with an evaluation board that facilitates performance verification and application development.
Evaluation Board
As a comprehensive semiconductor manufacturer, ROHM now offers ICs optimized for use with SiC devices, including the BD7682FJ-LB DC/DC converter control IC designed to maximize the performance of SiC power MOSFETs such as the SCT2H12NZ. An evaluation board (BD7682FJ-LB-EVK-402) integrating both products is also available.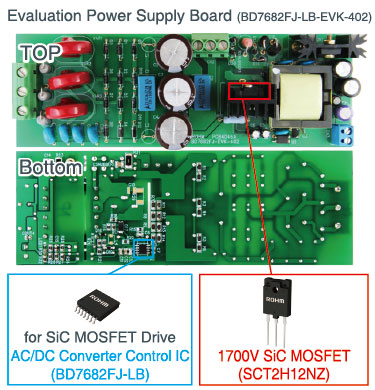 Key Features 1:Optimized for auxiliary power supplies in industrial equipment
Compared to 1500V silicon MOSFETs used in auxiliary industrial-grade power supplies, ROHM's SiC
power MOSFETs feature 8x lower ON resistance (1.15Ω) and a withstand voltage of 1700V. In addition, the TO-3PFM package delivers the necessary creepage distance (distance measured along the surface of the insulator) demanded by industrial equipment.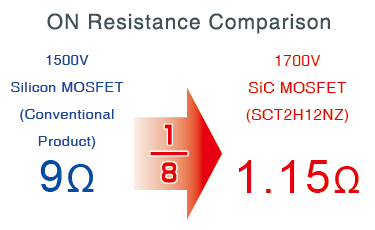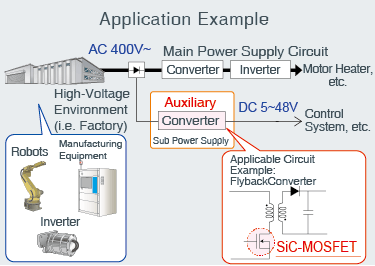 Key Features 2:Achieve even higher efficiency by combining with ROHM's dedicated IC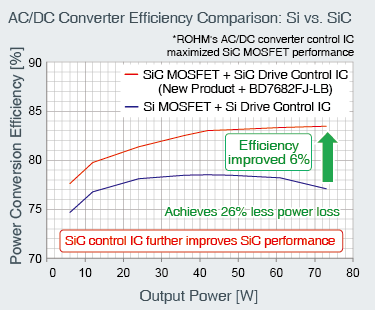 Combining with ROHM's BD7682FJ-LB AC/DC converter control IC improves efficiency by up to 6% while minimizing heat generation, making it possible to simplify and reduce the size of heat dissipation components.
Lineup
Related Information
Support Page
News
New Product Bulletin