The contents were published from July 2015 to February 2016 on "Nikkei Technology Online", the engineering information website run by Nikkei Business Publications, Inc., and reprinted with the author's permission.

The Internet of Things (IoT) is expected to dramatically change almost every aspect of society, including the framework of industry and our daily lives. One of the key technologies that will make it possible is sensing technology, the interface between the real world and cyberspace (computers). Executive Director Hideyo Asano of Mayekawa Mfg. Co., Ltd. of Japan, the first firm in Japan to introduce a remote monitoring system into industrial refrigeration machines discussed trends in sensing technology and the impact of IoT on society with Takaya Nagahata, Group General Manager, Sensor Business Strategy at ROHM Co., Ltd. of Japan, a leader in sensing devices.
Nagahata:

 People in many fields are deeply interested in IoT-the Internet of Things-because it will interconnect everything, not just information equipment designed from the start for networking. The reason is that building IoT concepts into existing frameworks will create new functions and services, and that could mean whole new businesses in the future.

 One concrete example is remote monitoring technology, keeping an eye on the status of equipment and systems via the Internet or other information network. Mayekawa began shipping products with its remote monitoring system in 2008, and launched a maintenance service based on it.

Asano:

Hideyo Asano

 Mayekawa Manufacturing specializes in making refrigeration systems, especially the large-capacity refrigeration machines used in frozen food manufacturing, distribution, and retail. In addition to refrigeration machine design and manufacture, we also design refrigeration plant system, and provide installation services. We handle everything after installation as well, including continuing refrigeration machine maintenance.

 We first adopted remote monitoring systems in 2008, in our NewTon series of high-efficiency refrigeration machines with natural-refrigerant for use in refrigerated warehouses (Fig. 1). The data from about 30 sensors mounted in each machine is uploaded to our servers periodically through a communications network provided by NTT DOCOMO, Inc. of Japan. We utilize that data in our automated monitoring system, keeping tabs on the status of customer machines. In addition to monitoring, the system can also notify us of likely failures, making it possible to prevent them before they occur. As soon as the first signs of a pending failure are detected, a serviceman go to the site to detect and repair the cause.

Fig. 1 The NewTon high-efficiency, natural-refrigerant refrigeration machine, with remote monitoring system

 When we developed this system the buzzword IoT hadn't been invented yet, so we obviously didn't develop the system with IoT in mind. Lately, though, many people outside have mentioned it as a good example of the IoT concept. Now we're watching IoT trends closely, too, and discussing how to make products to match.
Increasingly sophisticated requirements for sensors
Nagahata

 Rohm, a supplier of electronic devices, is very much aware of the potential of IoT (Fig. 2). We are strengthening our stance in sensors, because they are indispensable in IoT-based systems such as remote monitoring.

 Rohm began as a manufacturer of resistors-passive components-but today the majority of our revenue comes from semiconductors. We leverage the technology we've accumulated over the years to produce a wide range of sensors, including Hall-effect sensors, optical sensors, and micro-electro-mechanical system (MEMS) sensors.

 We've been involved in developing products for sensor networks and proposing solutions for some time already, but as the IoT concept developed we re-evaluated our approach. We decided our priority was to fulfill developing needs for sensors, the key devices in IoT implementation, rapidly and accurately. Concretely, we created the new Sensor Business Strategy group in 2014 specifically for the sensor business, centralizing all the sensor technology and related information from throughout the Rohm group. By bringing all related technical resources together it has become possible to fully leverage in-house expertise and flexibly meet diverse market requirements. The IoT market is still in its infancy, and at this stage the most important thing is for us to establish a system for responding to market requirements flexibly and quickly.

Asano:

 Refrigeration machines have been equipped with a variety of sensors for many years already, but with the introduction of the remote monitoring system new and more sophisticated needs emerged. In the past pressure was measured with a metal Bourdon tube, and temperature with an alcohol thermometer. Servicemen would visit the site and record the readings manually, and then use that data to analyze equipment performance. We were using those instruments as sensors, but in fact they only show approximations.

 The remote monitoring system required a digital sensing system, and also had to deliver high-precision data so that engineers could accurately grasp system operating status. That high precision also had to be maintained over the long term.

Nagahata:

 In general, devices for industrial equipment applications must have service lives 1.5 to 2 times longer than those for consumer electronics. Industrial products are also used much longer than consumer products, so devices must offer long lives and high reliability. The device manufacturer also has to continue supplying parts for a relatively long period of time. Recognizing this, Rohm has a policy of handling every manufacturing process in-house, under our corporate motto of "Quality first."
Needed: sensing technology to replace the five senses
Asano:

 If more powerful remote monitoring functions are needed, then the requirements on the sensors get more sophisticated, such as sensors capable of generating data equivalent to the human senses. When servicemen visit a customer machine room, they collect information by using the various sensors human being are equipped with, such as listening to noise of compressor. They can judge the refrigeration machine's health from that sensor information. In fact, servicemen make use of all five senses, collecting information to guide maintenance work. A remote monitoring system would need the same information as a human serviceman in order to provide the same service.

Nagahata:

Takaya Nagahata

 We are already getting requests to develop sensors that replicate human senses. For example, it is said that people only hear the sounds they want to hear, and in the same way we've been asked to make sensors that will only pick up specific sounds. Just as we use our eyes, ears, and noses to detect changes in the water or air, sensors capable of instantly detecting changes in gases or liquids with high precision could be used to monitor wastewater and exhaust facilities, for example, instead of people.

 We can use spectrophotometers and other large-scale measurement and analysis equipment in the laboratory to analyze changes in gases and liquids with high precision, but the size of the equipment raises problems with convenience and cost. If the same functionality could be implemented in a small sensor, it would be possible to develop systems with the same five senses that we enjoy.

Asano:

 If a compact system could be developed with all the functions of large measurement instrumentation, sensors for the five senses would become a lot more practical. There are already a few examples. Vibration analysis used to require a large fast Fourier transform (FFT) analyzer, but now the same functions can be implemented with software and a microprocessor. There's no longer any need to install an FFT analyzer in the control panel. Even manufacturers like us, who specialize in machines, have reached the point where we have to adopt this new technology.
Collaboration with customers is the key
Nagahata:

 As a device manufacturer, Rohm is also developing the new sensors needed for widespread adoption of IoT, but because we are a device manufacturer there are limits to what we can accomplish alone. As more and more systems use sensors, requirements will diversify, and no matter how successful we are at delivering new device functions and performance, we can't create added value unless we answer a market need.

 As I mentioned a moment ago, though, the IoT field is still in its infancy, and by working with customers from the initial development stages we can efficiently develop new products to fulfill emerging customer requirements. This initiative is under way in Japan and overseas, and as the Rohm Innovation Foundry System combining piezoelectric devices with MEMS technology has already yielded a number of new technologies including infrared and geomagnetic sensors.

Asano:

 The creation of new businesses and services based on IoT will demand research to identify emerging market needs. We have already launched a project to develop new businesses and services based on our remote monitoring system. There are about 20 people in the project team, covering about 40 local service offices, meeting with customers to brainstorm and evaluate new ideas in the maintenance sector. If we can identify new market needs we'll be able to further develop and evolve services based on the remote monitoring system.

 IoT could totally change our business model. We've been aware of that possibility though the NewTon. It used to be that a serviceman would be dispatched to a customer site after a problem occurred, but with the remote monitoring system there are far fewer emergency calls, and the whole company is gradually getting used to making scheduled visits. In other words, the fundamental sales approach and methods are changing.

 There might be even bigger changes in the future. If the remote monitoring system could handle detailed maintenance, for example, the customer's equipment could be maintained in "as-new" condition. Adaptive optimization might be able to boost on-site performance beyond as-new performance. That could affect the significance of owning the equipment, from the customer's point of view... maybe they'll end up getting the equipment for free, and just paying for the heating or cooling they utilize. It might mean an entirely new business model.

Nagahata:

 The Internet of Things is spreading into a wide range of fields, and already beginning to change our lives and society itself. Rohm feels a duty to help accelerate this process, and help achieve widespread adoption. We will continue to actively support IoT implementation by accurately identifying market requirements, and answering them with new technologies and devices.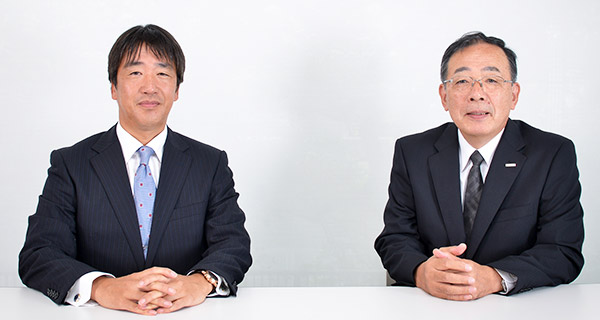 2017
Social innovation to be realized with advanced technology
2016
The New Society Shaped by Advanced Technology
2015
Creating the Society of Tomorrow
The Technology Revolution
2014
The Technology Creating Tomorrow's World
2013