The contents were published on "Technology Online", the engineering information website
run by Nikkei Business Publications, Inc., and reprinted with the author's permission.

Automobiles are steadily evolving, driven in part by the future of electronics and ICT (information and communications technologies). A variety of new platforms and services are becoming possible that can further contribute to the development of society through automobiles. President Satoshi Sawamura of ROHM, a semiconductor device manufacturer active in the forefront of automotive electronic devices, talked with President Teruaki Nakatsuka of JATCO, a leader in the automatic transmission industry, discussing the changes in automobiles and directions of growth.
Nakatsuka

JATCO is a manufacturer specializing in automatic transmissions for automobiles. The transmission, as the name suggests, must transmit the power generated by the engine to the tires with maximum efficiency, and it is a very important part of providing a smooth ride.

There are also manual transmissions, where the driver changes gears, but we specialize in automatic transmissions. JATCO is the second-largest automatic transmission manufacturer in the world, in terms of units shipped. We are especially known for our continuously variable transmissions (CVT), and hold the top share of the global market in the sector: 49%.

Teruaki Nakatsuka

We have established a goal of becoming the number one manufacturer in the world by 2020, and are enhancing our products and operations accordingly. We don't want to merely ship the most units, we also want to be recognized as the world leader in product quality, in technological innovation to boost product competitiveness, and in employee motivation...in short, in every aspect of the corporation. I believe that if we improve ourselves and our products, the numbers will rise by themselves.
Evolving simultaneously in conventional and innovative directions
Sawamura

ROHM was founded in 1958 as a resistor manufacturer, but today over 80% of our revenue comes from semiconductor devices. In addition to the resistors we started with, we also produce a range of passive components such as tantalum capacitors, and a variety of modules. I don't think there are very many device manufacturers in the world who(like us) handle the complete range from passives to LSI chips.

In recent years we have been proactively developing new markets, and we are especially interested in automotive electronics and industrial equipment. Revenues from these two sectors have been steadily increasing.

Nakatsuka

When did you enter the automotive market?

Sawamura

Satoshi Sawamura

We started focusing on this sector about a decade ago. We started off in primarily audio equipment and other information-related systems, and gradually expanded to include body systems and powertrain systems.

Ever since our foundation we have held quality as the top priority of the company, and I think the automotive industry understands and respects that philosophy because they are also working to provide the highest possible quality in their products.

Our vertically integrated organization is one of our strengths: we handle everything from materials to package manufacturing and even developing our own production equipment. With vertical integration we can keep tabs on every part of the production process and control it, for excellent quality management. It is also crucial in establishing a reliable product supply structure. Product quality and supply structures are equally important when we manufacture automotive products. The automotive industry, however, is undergoing enormous changes as the pace of technological revolution accelerates toward next-gen automobiles.
New needs emerging as industries evolve
Nakatsuka

Next-gen automobiles are attracting a lot of attention lately, like hybrid electric vehicles (HEV), EV, and renewable energies like hydrogen. The conventional automobile market is very active, though, and this is also developing rapidly. In emerging economies where automobiles are just now being widely adopted, demand is still focused on conventional designs. We think that the two different markets—cutting-edge cars based on state-of-the-art technologies, and conventional cars—require completely different approaches.

Sawamura

Fig. 1: Introducing the world's first SiC power devices, driving next-gen automobile evolution (ROHM).

As a supplier of semiconductor devices and electronic components, we are confident that there will be new demand for both conventional and next-gen vehicles. Semiconductor demand for conventional automobiles is soaring. Next-gen automobiles, with motorized systems, will probably use the most electronic circuits, and already technologies like autonomous driving andintelligent transport systems (ITS) using ICT (information and communications technology) are on the verge of widespread adoption. As these trends develop they will create new needs for a variety of semiconductors and electronic components.

Nakatsuka

I agree. I think that our transmissions have to for example become a lot "smarter." In other words, they have to do more than just transfer the power from the engine. One example would be to adjust the sensations felt by the driver when changing gears. In Japan we refer to this as "seasoning," but different nations and regions rate these sensations differently. I think it will be important for our products to be able to adjust to shift sensations to better match what drivers in each region want.

This "seasoning," however, can only be implemented with information, and information is collected and transmitted by electronic systems. Semiconductor and electronic component manufacturers such as yourself will be essential in developing these technologies.

Autonomous driving, ITS, and the like will not enter widespread use for some time yet, but the technologies being developed for the cutting-edge systems can already be utilized, in part, in conventional automobiles. And I think that will drive demand for advanced semiconductor devices and electronic components in conventional automobiles as well.
Strengthening operations for future growth
Sawamura

When the automobile power source changes from engines to motors, such as in EVs and HEVs, will it also mean change in the functions and roles of the transmission?

Nakatsuka

Some people say that the increase in the number of vehicles without engines will kill the transmission market, but I actually think the role of transmission manufacturers will expand. In order to implement the "seasoning" I mentioned, an electronic "brain" will be needed between the power source and whatever mechanism is used to transmit the driving force to the road.

Automobiles are increasingly electrified, and to ensure that we can continue to contribute in that industry we established the Future Technology Center in 2012, separate from the technology development arm for conventional automobiles, specifically to investigate the new roles and technologies we'll need in the future. Charting our path for the future may well present a number of problems that can't really be investigated or solved within the framework of our existing activities. The Future Technology Center will also investigate the potentials for corporate alliances outside the scope of the automotive industry.

Fig. 2: Development at the Future Technology Center

Sawamura

We have to make preparations to supply the diverse semiconductor device and electronic components to handle those new requirements in automobiles.

ROHM was the first company in the world to release a commercial silicon carbide (SiC) power device. We believe demand for this device will surge as next-gen automobiles enter widespread use.

Nakatsuka

SiC power devices are stirring up considerable interest as a means of saving energy.

Sawamura

Yes. They have far lower loss than conventional semiconductors, and are capable of high-speed operation at even elevated temperatures. When they are used instead of conventional power devices, energy utilization efficiency rises, yielding energy savings and making it possible to use much smaller devices.

Specifically, we manufacture Schottky barrier diodes and MOSFETs, as well as power modules incorporating them. Our product range currently extends up through 1200V and 180A, with expanding use in power transmission and power source applications. They are being used in cars now, too, and from 2016 they will be used in automotive powertrains. We expect the automotive SiC power device market to show major growth from about 2020, and are already developing the new devices that will be needed, with even higher rated voltage and amperage.

In addition to the automotive industry, though, almost all industries urgently need to improve overall system efficiency. We are meeting these needs through modularization, which combines multiple components into a single unit, including discretes and the integrated circuit controllers utilizing our superlative analog technology.

As customer needs change and the market grows, only the strong corporations will survive. We will need to leverage the core technologies we developed in order to maintain our leading position in the market, and when a core technology matches a market need, it means enormous demand. We are constantly evaluating our core technologies, the things we are best at.

We've been involved in automotive semiconductors for about a decade now, and we realize that we will have to build and maintain even closer relationships with the automotive industry to clearly understand market needs.
The need to build business continuity
Nakatsuka

As automobiles continue to evolve, the relationship between the automotive industry and society will also deepen. As this happens, I think it will be important to ensure business continuity.

The automotive industry supply chain is much tighter than in most other industries. Following the significant damage caused by the Great East Japan Earthquake, JATCO is actively involved in business continuity management (BCM). We intend to continue to strengthen our preparedness for anything that may happen.

Specifically, the BCM Center at the head office in Fuji, Shizuoka prefecture, commands a management network linking all our global offices. In the event of an emergency it will serve as the core of our corporate system to restore normal operations as quickly as possible. Periodic training sessions are held, and the system has already functioned in real operations such as during the recent flooding. A number of response programs have been prepared and practiced many times, and the system is understood in the factories.

Sawamura

Our production facilities were also damaged by the Great East Japan Earthquake, and our facility in Thailand was heavily damaged by the severe flooding there in 2011. Since then we have reviewed our business continuity planning (BCP) from the bottom up, and strengthened it considerably.

We evaluated risks at all our production facilities worldwide, not just in Japan, and figured out how to minimize the effects for every case. The BCP we developed includes a shift toward multiple supply points and distributed inventories, along with improved disaster protection at facilities and thorough BCP training. We intend to continue to improve our planning, ensuring that we can reliably supply not only the automotive industry, butalso all our customers.
Changes in the environment and safety are new opportunities
Nakatsuka

Any consideration of the future of the automotive industry and society must include the environment and safety. I think demand for conventional automobiles will continue for some time, but the business itself is based on mass production, and faces a growing problem because they all emit carbon dioxide. They will have to face these problems eventually, which is why they are developing technologies for conventional automobiles while simultaneously developing the new technologies for next-gen vehicles.

Sawamura

A wide variety of social issues are being resolved across the world today, and the concept of a CSV (Creating Shared Value) as a guide for corporate activity is gaining traction. This isn't a new concept for ROHM, however, because ever since we were founded with the ideal of making quality products, we have continued to contribute to the development of culture. We will hold to this ideal in the future as well, developing efficient devices to help save energy and reduce CO2, and equipment to provide safer and more comfortable lives, while contributing to the development of the automotive industry and the resolution of social issues.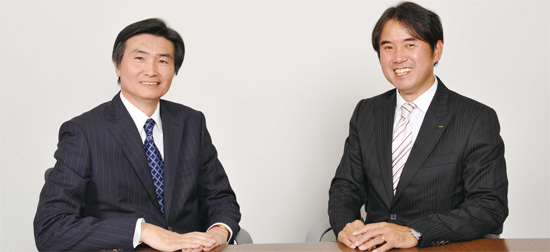 2017
Social innovation to be realized with advanced technology
2016
The New Society Shaped by Advanced Technology
2015
Creating the Society of Tomorrow
The Technology Revolution
2014
The Technology Creating Tomorrow's World
2013