The contents were published on "Technology Online", the engineering information website
run by Nikkei Business Publications, Inc., and reprinted with the author's permission.

Enhancing Energy Management in the Construction Industry ― Battery-Free Wireless Communication Technology Part of the Solution
Founded in 1804, Shimizu Corporation has been in the general construction business for over two centuries. One of the firm's projects is its ecoBCP concept, a unique approach for facilities and communities combining ecology with business continuity (disaster resilience). Kazuyoshi Nasuhara, Director, ecoBCP Business Promotion Office, Shimizu Corporation of Japan, who plays a key role in the project, spoke with Koji Taniuchi, Unit Leader (General Manager) Incubation Unit, R&D Headquarters, Device Solution R&D Unit, Rohm Co., Ltd. of Japan, in charge of the EnOcean project for battery-free wireless communication utilizing energy harvesting technology.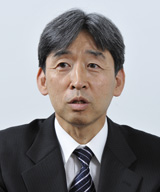 Kazuyoshi Nasuhara
Taniuchi: Many firms are getting very interested in ecology lately, but I think the ecoBCP concept, integrating ecology (eco) with a business continuity plan (BCP), is unique.
Nasuhara:The Great East Japan Earthquake actually launched the ecoBCP project. As a firm in the construction business we had been concerned with environmental protection for quite some time already, but that disaster brought home just how important business continuity planning is, too. The ecoBCP concept (Fig. 1) was developed to combine the functions needed to ensure business and daily life after disasters, by building ecological policy designed to promote BCP directly into structures during the construction phase.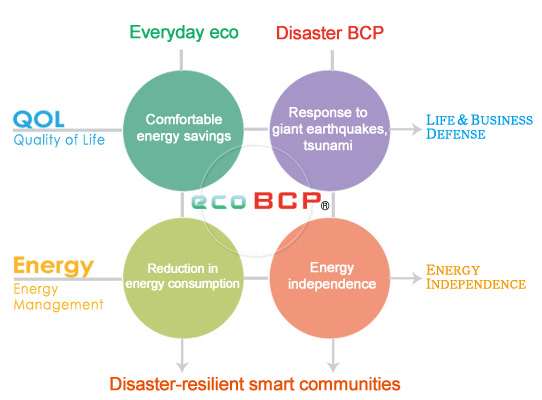 Fig. 1 The ecoBCP Concept
The ecoBCP Promotion Office was established directly under the president in April 2012 to coordinate company-wide activities related to the concept. The name was changed to the ecoBCP Business Promotion Office in May 2013 to reflect the increased emphasis on putting theory into commercial practice.
Contributing to Society through Sensors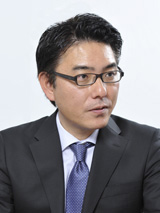 Koji Taniuchi
Taniuchi: The realization of ecoBCP is a major issue for the whole social system. We have also contributed to the resolution of a wide range of social issues through the provision of innovative electronic devices, and are committed to continuing growth in the same way.
Rohm supplies diverse electronic devices, but we have defined four key product categories as "growth engines" for the future. The first is power semiconductors, which contribute to improved energy efficiency in many types of equipment. Second are light-emitting diodes, or LEDs, which emit light with less energy. Sensors are the third category, essential in collecting data on a variety of information from the natural world. The fourth category is what we call "synergy," referring to completely new devices that bring together entirely different technologies to create something unique.
I work in sensors. Rohm manufactures many types of sensors, and in fact offers more types than any other company in the world. By bringing together technologies such as sensors, communication networks, and energy harvesting, we are working to develop new solutions for social problems.
I have heard that the housing and architectural industries are extremely interested in sensor networks, which collect data from a large network of sensors, as a platform for resolving energy issues and various problems related to the increasing average age of the population.
Nasuhara:There is a growing relationship between architecture and electronics, and I think sensor systems may well be introduced into almost every aspect of the industry. It will take quite a bit of work just to figure out how to best utilize information, and what issues it can help resolve.
My group is actively assisting other researchers in introducing these new technologies and finding new solutions. The new head office building completed in May 2012, in fact, also functions as a showroom for ecoBCP technology. It features a variety of ecoBCP technologies, including an energy management system based on a sensor network, and is already collecting data that will be invaluable in implementing our business plan.
Achieving Zero Carbon in 2015
Taniuchi: We don't just provide technology, because we believe it is important to provide it in the form that society needs. I think the idea of considering the application of any new technology before introducing it is an excellent one.
Nasuhara:The concept of the zero energy building (ZEB) is emerging as a major global trend in the construction industry. ZEB means reducing the net energy consumption of a building to zero by minimizing consumption and drawing on renewable energy sources.
To establish itself in the forefront of ZEB technology development, Shimizu initiated the Front Runner Project, drawing up a detailed roadmap to reduce CO2 emissions from the new head office building. This roadmap was incorporated into the initial architectural design, marking a major step in achieving ZEB performance.
When design work was started the objective was to build a "half-carbon building," in other words a building emitting only half as much carbon as the average office building in Tokyo in 2005 (Fig. 2). A variety of new technology was utilized to achieve this goal.
Fig. 2 Shimizu Corporation Head Office Building
Taniuchi: The use of sensor networks to reduce building energy consumption is becoming quite common of late. I think one of the major problems in developing this kind of system, though, is not the sensor network itself, but rather exactly what to actuate with it.
Nasuhara:I agree. We are extremely interested in just what can be done with sensor networks. The new head office building incorporates many environmental technologies and cutting-edge energy-saving technologies, including a microgrid combining solar power and power storage technologies with commercial grid power, and task-and-ambient lighting and air conditioning systems.
The microgrid, for example, is built around a building energy management system (BEMS) linked to the work support system. It constantly monitors the changing building energy consumption and solar panel array output, utilizing 100% of generated solar power, and tapping additional power from the storage cells as needed, minimizing our reliance on commercial power.
The task-and-ambient lighting and air conditioning systems also save energy. Ambient air conditioning is radiant, utilizing ceiling panels to adjust office-wide temperature, while at the task level individual air supply vents underneath desks are opened and closed as needed. Lighting combines room-level ambient LED illumination with desktop stand lights. The ambient lighting and air conditioning are kept at the minimum levels possible, with individual (task) environments maintained at the most comfortable levels, thereby saving energy. The head office building is build in an area that has regional heating and air conditioning, and we are now working on the development of a large-scale energy-saving system incorporating multiple buildings in an area-level heat-sharing arrangement, including utilizing waste heat from the existing system inside the head office building.
Taniuchi: How is the new system working out?
Nasuhara:Through various means, the completed building is expected to cut the annual CO2 emission level by 62% from that of an average Tokyo office building of 2005. We are continuing programs to further reduce emissions, and expect to further reduce emissions by 70% by 2015. We also plan to achieve zero carbon performance that same year.
Wireless Switches Need No Batteries
Taniuchi: Rohm handles a wide variety of technologies designed to conserve energy. Our EnOcean battery-free wireless sensing technology (Fig. 3) is one, and we are actively promoting it for use in office buildings and industrial equipment. This innovative technology was originally proposed by EnOcean GmbH of Germany, utilizing energy harvesting technology to convert environmental energy such as light and motion into electricity. The EnOcean Alliance is a non-profit group of over 300 organizations worldwide working to establish a global standard, and as the only promoter in East Asia Rohm plays a critical role. We have already launched development and marketing initiatives for related products.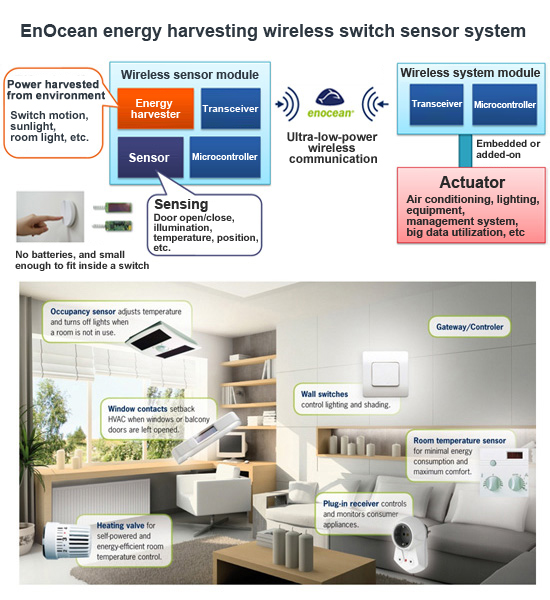 Fig. 3 The EnOcean Basic System and Applications
For example, we have developed a way to utilize the principle of electromagnetic induction so that the action of flipping a switch generates enough electricity to send an on/off signal to the controlled equipment via wireless. Because it is wireless, there is no need for wiring construction, and of course there is no need for a power source. That makes it possible to install switches anywhere they are needed, very easily.
If an entire building were equipped with this type of switches to control electronic equipment, it would make a significant contribution to reducing energy consumption. And these switches can be easily installed in existing buildings, or in historic structures where electrical construction is forbidden or tightly regulated.
EnOcean systems are beginning to penetrate the market, with over 300,000 installations already, primarily in Europe. One application, for example, utilizes the technology in a system providing centralized management of window open/close status. The window open/close lever itself generates the power needed to notify the control system of the window's status. Another system installs sensors into a bed to detect the motion of the person lying there, and notify a remote centralized management system.
Nasuhara:Eliminating the need for wiring construction means much shorter construction times, and that will mean lower cost. That's very intriguing. And EnOcean might be able to help resolve a different problem faced by the architecture industry, too, namely the fact that the electricians installing the wiring in homes and office buildings must be licensed. Unfortunately, the number of licensed electricians is dropping steadily as the average age of the Japanese population rises. If EnOcean technology can eliminate the need for wiring, it would resolve that problem neatly, too.
Taniuchi: That hadn't occurred to me, but you're right. There are so many technology requirements that we are simply unaware of. By exchanging opinions and ideas with people in other fields and other industries we can uncover many of these requirements, and increase the number of ways that we can contribute to society through technology.
Thank you for your time today.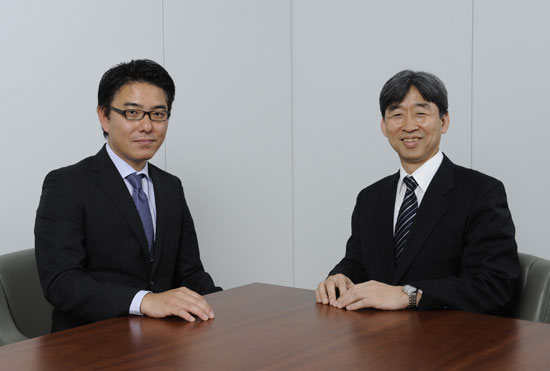 2017
Social innovation to be realized with advanced technology
2016
The New Society Shaped by Advanced Technology
2015
Creating the Society of Tomorrow
The Technology Revolution
2014
The Technology Creating Tomorrow's World
2013