Ultra-Low Ohmic Jumper Resistors with 0.5mΩ Max Conduction Resistance and Higher Rated Current
2011-09-12
ROHM has announced the development of the PMR series of ultra-low ohmic jumper resistors featuring significantly reduced conduction resistance (0.5mΩ max.) and higher rated current.
Jumper resistors are used in a variety of everyday electronic equipment, in switching circuits, or to make a shortcut between circuits. Although ideally jumper resistors have 0Ω, this is impossible to achieve in the real world, where previously the best jumpers measure in the tens of milliohms. However, in recent years, the increased functionality and larger currents used in the latest electronic devices make it impossible to ignore power losses and voltage drops in jumper resistors, increasing the need for lower resistance values.
ROHM's PMR jumper series meets this need by utilizing a unique chip structure and a resistive element composed of a special alloy for superior conductivity. The result is ultra-low resistance – 1/100 that of conventional jumpers – along with minimal power loss and voltage drops, even at large currents. The lineup consists of five models, from the 1608 size (22.4A) to the 6432 size (63.2A), in order to meet a wide variety of needs.
■Key Features
Conduction resistance 0.5mΩ max (1/100 that of conventional thick-film types)
Compatible with large currents (22.4A to 63.2A)
Superior resistance to overcurrent and pulse loads
Completely lead-free
Installation is easy and surface mounting possible by replacing jumper leads
■Rated Current
Rated current at least twenty times higher than conventional resistors (Example: 1608 Size)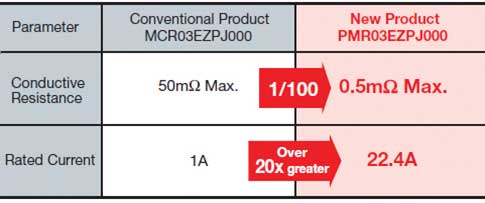 ■Specifications