Ultra-Compact High Efficiency General-Purpose Step-Down DC/DC Converter Modules
2010-04-21
ROHM Co., Ltd. has recently announced the development of the BP5275 series of step-down DC/DC converter modules that integrate all required external components, including input/output capacitors, into a compact, high heat dissipation package. This makes them ideal for use as general-purpose power supplies in a variety of electronic devices.
Currently, multiple LDOs, switching regulators, and numerous other electrical components are required in order to provide stable electrical power to internal circuits. However, the relatively large amount of heat generated by each component requires separate heat sinks or additional substrates to facilitate heat dissipation, making miniaturization difficult. Also, multiple tedious circuit design processes, including selection of external components based on phase compensation, FET voltage, and heat dissipation characteristics, are necessary, increasing development time and costs.
In response to this, the BP5275 series was developed, utilizing an in-house high-frequency (1.5MHz) switching regulator IC and synchronous rectification system for high efficiency operation (93% for 6V→5V conversion). As a result, mounting area is reduced to 1/6th the conventional size. The new high-heat-dissipation package enables direct heat dissipation from the element(s) to an aluminum heat sink. An external heat sink can be mounted, increasing output current capability to 800mA. In addition, the 3-terminal, pin-compatible configuration makes it possible to achieve major increases in power supply efficiency without requiring comprehensive modifications.
The lineup includes four types, in different output voltages (1.8V/2.5V/3.3V/5.0V), making it possible to select the ideal solution based on specifications. A high input voltage series is currently under development.
Pricing : 1000yen/unit (For sample shipments)
Availability : April 2010 (Samples), July 2010 (OEM quantities)
■Key Features:
All required components are integrated into a single package, including input/output capacitors, eliminating the need for external components
High efficiency: 93% (max.)
High heat dissipation structure
Pin-compatible with standard LDOs enables easy replacement
Available in a range of output voltages: 1.8V, 2.5V, 3.3V, 5.0V
■Mounting Area Comparison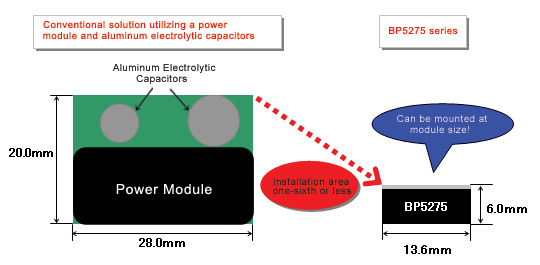 ■Absolute Maximum Ratings
Parameter
Symbol
Rating
Units
Remarks
Input Voltage
Vin
15
V
DC
Operating Temperature Range
Topr
−20 to 80
ºC
Storage temperature Range
Tstg
−40 to 85
ºC
Maximum Allowable Surface Temperature
Tcmax
105
ºC
Ambient Temperature + Module
Temperature ≦Tcmax
Maximum Output Current
lomax
500
mA
*
* 800mA output possible when using an external heat sink
■Package Size
13.6mm × 6.0mm × 20.0mm
■Terminology
LDO Regulator
Refers to a low dropout regulator - a regulator with a small input-output voltage difference.