The University of Limerick Electronics Spin-Out Powervation Sells for $70 Million (€64m)

University of Limerick (UL) spin-out company Powervation a Cork-based designer and producer of ultra energy-saving computer chips, has been acquired by Japanese electronic parts manufacturer ROHM for about $70m (€64m) in an all-cash deal.
Since its founding in Ireland in 2006, as a UL spin-out, Powervation has established itself as a leading innovator in digital power controllers serving high performance Computing, Cloud and Communications infrastructure markets. The company was established based on research undertaken by Dr Karl Rinne and Dr Eamonn O'Malley, Circuits and Systems Research Centre, UL which enables companies to improve energy efficiency of their information processing equipment.
Vice President Research, Dr Mary Shire said; "€œSuccessful industry collaboration and knowledge transfer is part of our DNA here in UL. We have long had a track-record of delivering excellence research with impact that leads to high value spin-out companies, with global reach and Powervation is another great example of such a success story".€
Paul Dillon, Director, Technology Transfer, UL said "€œUL is again delighted to be associated with an acquisition of this scale which is a vindication of the many years effort by the research team within UL and the Powervation team after they spun out. The ecosystem of commercialisation and innovation expertise and supports in UL, such as the Nexus Innovation Centre and our focus on enterprise engagement, have played an important role in creating an environment which supports large-scale spin-out activity of this nature. This announcement adds to the list of recent successes in the space such as Stokes Bio and Crescent Diagnostics".
The Powervation team have been successful in the intervening years in raising additional funding to further their research and development efforts which has been backed by leading investors - SEP, Intel Capital, VentureTech Alliance, Braemar Energy Ventures,4thLevel Ventures, Enterprise Ireland and Semtech Corporation.
Having been initially based in Limerick, Powervation will become a fully owned subsidiary of ROHM, with principal design center in Cork and system application centers in San Jose, CA and Asia which fuse expertise in power systems, digital control, silicon and embedded software.
By acquiring Powervation, ROHM will gain leading-edge digital power technologies to strengthen its product offerings in the rapidly-growing cloud, data-center, and communications infrastructure markets. This acquisition will also enable ROHM to develop advanced digital power solutions for a broader range of markets and applications with Powervation's flexible controller platform.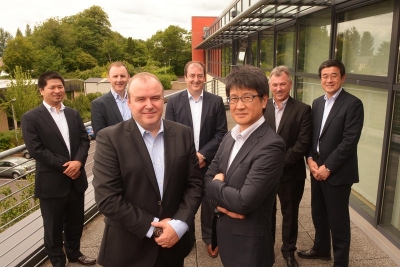 At the Cork headquarters of UL spin-out company Powervation following the announcement that it has been acquired by Japanese company ROHM Semiconductor for US$70million (€64m) were: Mike Smith, SVP & GM ROHM Semiconductor and Jun Lida, Director ROHM Semiconductor. Also included are from left, Hiroshi Ikeda, Senior Business Planner ROHM Semiconductor, Dr Eamonn O'Malley, co-founder Powervation, Fearghal O'Riordain, investor with SEP, Michael McAuliffe, CEO, Powervation and Takahiro Ota, Director ROHM Semiconductor.
Read as originally published here:
http://www.ul.ie/news-centre/news/the-university-of-limerick-electronics-spin-out-powervation-sells-for-70-mi/