The Industry's First※ SiC Power MOSFET with Internal SiC SBD
Significantly reduces power loss in inverters and requires fewer components
07.11.2012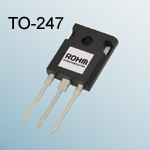 ROHM has recently announced the development of a 2nd generation high-voltage (1200V) SiC (Silicon Carbide) power MOSFET designed for inverters and converters in power conditioners for industrial devices and photovoltaic power generation. Features include low power loss and high reliability, reducing power consumption and enabling support for smaller peripheral components.
The SCH2080KE is the industry's first SiC power MOSFET to successfully integrate an SiC SBD into a single package. Forward voltage (VF) is reduced by 70% or more for less power loss and fewer components are required.
Current Si IGBTs commonly used in 1200V-class inverters and converters cause power switching loss due to tail current or recovery of the external FRD, bringing a need for SiC power MOSFETs capable of operating with low switching loss at high frequencies. However, conventional SiC power MOSFETs were plagued with numerous reliability problems, including characteristic degradation due to body diode conduction (e.g. increased ON resistance, forward voltage, and resistance degradation) and failures of the gate oxide film, making full-scale integration impossible.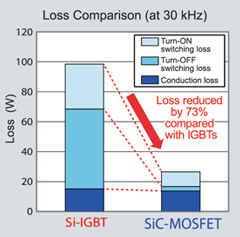 ROHM has succeeded in overcoming these problems by improving processes related to crystal defects and device structure and reducing ON resistance per unit area by approximately 30% compared to conventional products, leading to increased miniaturization.
ROHM has also succeeded in integrating an SiC SBD, which previously had to be externally mounted, in the same package using proprietary mounting technology, minimizing forward voltage that was problematic in previous SiC power MOSFET body diodes. As a result, the SCH2080KE reduces operating power loss by 70% or more compared to Si IGBTs used in general inverters. This not only provides lower switching loss, but also enables compatibility with smaller peripheral components by supporting frequencies above 50kHz.
ROHM also offers the SCT2080KE, an SiC power MOSFET with no internal SiC SBD. Both the SCH20801KE and SCT2080KE can be configured based on customer requirements. ROHM will be showcasing these SiC power MOSFETs at the TECHNO-FRONTIER 2012 exhibition, which will be held at Tokyo Big Sight from July 11 (Wed) to 13 (Fri).
※ ROHM July 11 survey
• Pricing: Please Inquire
• Availability: June 2012 (Samples), July 2012 (OEM Quantities)
<Key Features>
1) Integrates an SiC power MOSFET and SiC SBD in a single package
The SCH2080KE integrates an SiC SBD, which conventionally was externally mounted, in the same package, reducing forward voltage along with the number of external components, saving space.
2) Excellent current and voltage characteristics with no voltage rise
Optimized process and device structure reduces ON resistance by approximately 30% per unit area compared to first-generation products. These new types of SiC power MOSFETs feature no voltage rise common with Si IGBTs had, ensuring low switching loss even during low-load operation.
3) 70% lower forward voltage minimizes switching loss and requires fewer external components
SiC power MOSFET body diodes typically feature a higher rise voltage (2.5V or more) due to SiC characteristics, possibly resulting in increased switching loss during inverter operation.
In response, the SCH2080KE integrates an SiC power MOSFET and SiC SBD into a single package for significantly reduced forward voltage, minimizing switching loss along with the number of external components.
4) No tail current enables low switching loss
Unlike Si IGBTs, ROHM SiC power MOSFETs cause no tail current, reducing turn-OFF switching loss by 90% for significantly greater energy savings. In addition, switching frequencies above 50 kHz are supported, contributing to smaller, lightweight devices.
<Terminology>
• Body diode
A diode formed parasitically in a MOSFET due to its structure. Since current flows through this diode to operate the inverter, it requires low VF and high-speed recovery characteristics.
• Tail current
A transient current that flows through an IGBT when turning OFF. This transient current is generated due to the storage time of injected holes. A large drain voltage is applied during this period, resulting in significant switching loss.
• IGBT (Insulated Gate Bipolar Transistor)
A power transistor that provides low ON resistance by having current flow via both electrons and holes. Not suitable for high-speed operation due the storage time of injected holes, resulting in high switching loss.
• Forward voltage (VF)
A voltage that drops across the diode when a forward current flows. The lower the forward voltage, the lower the power consumption.
• ON resistance
A resistance value of power element while in operation. ON resistance is the most important parameter that influences the performance of power MOSFET. Lower ON resistance provides a higher level of performance.