TDK-Lambda High-Current Power Module Uses Powervation Digital Controller
60 A Digital POL Module Provides Full-Features & PMBus™ Programmability in 1 Inch2 Design

Cork, Ireland, and San Jose, CA, May 29, 2014: Powervation Ltd. (www.powervation.com), the leader in Intelligent Digital Power™ IC solutions, today announced that its PV3012 digital controller is being used by new TDK-Lambda iJB Series high-current digital POL modules.

The iJB series products support low-voltage, high-current operation while providing ±0.5% set-point accuracy over line, load, and temperature range. While the PMBus functionality of the module provides real-time telemetry of voltage, current, and temperature and enables full programmability of the DC/DC converter, the iJB series products also employ function setting pins, enabling them to be used in non-PMBus applications. The target applications for the iJB series include: servers, routers and other Information & Communication Technology (ICT) equipment, T&M and industrial equipment.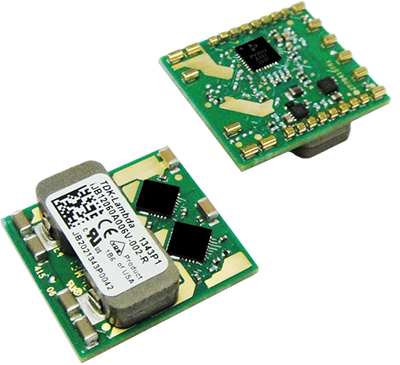 Comments David Norton, Vice President of Marketing, TDK-Lambda Americas Inc.: "Using Powervation's intelligent auto-tuning technology, Auto-Control®, the iJB POL modules bring better dynamic performance and system stability to the application - autonomously managing circuit and load variations due temperature, component tolerances, ageing and board impedances."

Powervation's Auto-Control® is the industry's leading intelligent auto-tuning technology. The patented adaptive compensation technology optimizes dynamic performance and system stability in real-time without requiring any noise injection or the drawbacks of periodic techniques. This is a key benefit for modules and other designs that drive unknown or variable output loads, and addresses the challenges of load parameter drift that occurs over temperature and time.

Comments Powervation's CEO, Mike McAuliffe: "TDK- Lambda's iJB series delivers industry-leading power density with this 60 A solution requiring only one square inch of board space. Optimized system and component design and deployment of the advanced digital control features provided by Powervation's PV3012, has resulted in higher efficiency & reliability, faster transient performance and precision voltage control over all conditions."

The iJB Series POL module is available now (www.tdk-lambda.com/about/press/20140410_1.html). The PV3012 and other digital control ICs are available from Powervation.

About Powervation
Powervation (www.powervation.com), the Intelligent Digital Power™ Company, delivers breakthrough intelligent digital IC solutions for designers of cloud computing, communications, and high-performance power systems. The company's digital DC/DC controllers with Auto-Control® technology, provides intelligent adaptive compensation, delivering significant benefits in performance, efficiency, reliability and breakthrough design simplicity. Powervation is a private fabless semiconductor company backed by leading investors - SEP, Intel Capital, VentureTech Alliance, Braemar Energy Ventures and is headquartered in Cork, Ireland, with sales/applications offices in San Jose, California, Taipei, Taiwan, and Shenzhen, China.

About TDK-Lambda Corporation
TDK Corporation is a leading electronics company based in Tokyo, Japan. It was established in 1935 to commercialize ferrite, a key material in electronic and magnetic products. TDK's portfolio includes electronic components, modules and systems* marketed under the product brands TDK and EPCOS, power supplies, magnetic application products as well as energy devices, flash memory application devices, and others. TDK focuses on demanding markets in the areas of information and communication technology and consumer, automotive and industrial electronics. The company has a network of design and manufacturing locations and sales offices in Asia, Europe, and in North and South America. In fiscal 2014, TDK posted total sales of USD 9.6 billion and employed about 83,000 people worldwide. The product portfolio includes ceramic, aluminium electrolytic and film capacitors, ferrites, inductors, high-frequency components such as surface acoustic wave (SAW) filter products and modules, piezo and protection components, and sensors. For more details, please pay a visit to http://www.tdk-lambda.com/

Download Press Release in pdf format

For Further Information:
David New
Vice President of Product Marketing
Powervation Inc.
San Jose, CA 95134
Office: +1 408 837 0544
E-mail: david.new@powervation.com
For Press Enquiries:
Nick Foot
PR Director
BWW Communications
Henley-on-Thames, Oxfordshire, RG9 2AR
Office: +44-1491-636 393
E-mail: nick.foot@bwwcomms.com