SiC Schottky Barrier Diodes Featuring the Industry's Lowest VF
Reduces power dissipation in PV power conditioners, industrial equipment, and servers
2012-06-27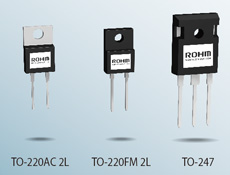 ROHM has recently announced the development of second-generation SiC (Silicon Carbide) Schottky barrier diodes ideal for power supply circuits in PV (photovoltaic) power conditioners, industrial equipment, servers, air conditioners, and more. This new series features the industry's lowest forward voltage (VF=1.35V※) – 10% less than conventional products – reducing power consumption considerably.
※ June ROHM survey
In recent years SiC has emerged as the successor to silicon for use as a semiconductor material in next-generation devices, particularly in the power electronics sector (i.e. industrial equipment, solar cells, electric vehicles, railways), due to its lower power conversion losses and superior material properties. ROHM has successfully launched mass production of SiC SBDs and MOSFETs in 2010, followed by the industry's first mass production of 'Full SiC' power modules in March 2012. However, although SiC SBDs are now commonly mass-produced on a global scale, their forward voltage remains at around 1.5V, hindering energy conservation efforts. Further reductions in VF are required to minimize power dissipation.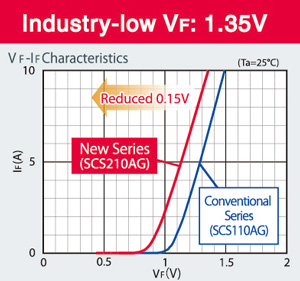 Reducing the forward voltage, however, normally results in an increase in reverse leak current. ROHM overcame this challenge through device optimization and improved manufacturing processes, successfully reducing VF while maintaining low leakage current. In addition, this new series features particularly low forward rise voltage compared with competitor products for improved efficiency during low-load states – where it is commonly used.
Pricing: 500yen/pc (Samples)
Availability: June 2012 (Samples)
<Key Features>
High-speed switching and low VF dramatically reduce power dissipation compared to conventional Si products.
The new SCS210AG/AM series of SiC Schottky barrier diodes reduces forward voltage while maintaining the high-speed switching characteristics unique to SiC, significantly reducing power dissipation compared with conventional Si fast recovery diodes.
<Specifications>
Part No.
Absolute Maximum Ratings
(Ta=25ºC)
Electrical Characteristics
(Ta=25ºC)
Package
VRM(V)
VR(V)
IF(A)
VF(V)
Typ.
VF(V)
Max.
IF(A)
IR(µA)
Max.
VR(V)
☆ SCS206AG
600
600
6
1.35
1.55
6
120
600
TO-220AC 2L
☆ SCS208AG
600
600
8
1.35
1.55
8
160
600
TO-220AC 2L

NEW

SCS210AG
600
600
10
1.35
1.55
10
200
600
TO-220AC 2L
☆ SCS212AG
600
600
12
1.35
1.55
12
240
600
TO-220AC 2L
☆ SCS220AG
600
600
20
1.35
1.55
20
400
600
TO-220AC 2L
☆ SCS206AM
600
600
6
1.35
1.55
6
120
600
TO-220FM 2L
☆ SCS208AM
600
600
8
1.35
1.55
8
160
600
TO-220FM 2L

NEW

SCS210AM
600
600
10
1.35
1.55
10
200
600
TO-220FM 2L
☆ SCS212AM
600
600
12
1.35
1.55
12
240
600
TO-220FM 2L
☆ SCS220AE2
600
600
10/20※
1.35
1.55
10
200
600
TO-247
☆ SCS240AE2
600
600
20/40※
1.35
1.55
20
400
600
TO-247
☆ :Under Development ※ Per Leg / Device