Scottish Equity Partners in Series C Round for Ireland's Powervation

Glasgow-based private equity firm Scottish Equity Partners (SEP) has reinvested in Irish electronics business Powervation through a $7m Series C financing round, which also saw participation from new strategic investor Semtech Corp.
Powervation makes digital power controllers that have established a strong presence in the communications and computing / server infrastructure market through their advanced digital control, telemetry and power management capabilities.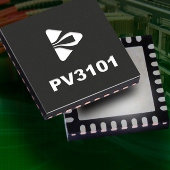 Its Intelligent Digital Power platform incorporates its patented Auto-Control technology, which is the industry's only real-time adaptive compensation scheme and claims to deliver optimum performance under all load conditions and over the full product lifecycle.
The financing round will be used to fuel business growth and accelerate market adoption of the company's Intelligent Digital Power platform at cloud and communications infrastructure OEM's.
The funding will also enable Powervation to expand sales channels and strengthen applications engineering, including establishing a new facility in Taiwan to support its Asian business growth.
New investor Semtech Corp, a Nasdaq-listed supplier of mixed signal semiconductors, has made a strategic investment in the company, joining the round participation of the existing investor group – Intel Capital, SEP, VentureTech Alliance and Braemar Energy Ventures.
Enterprise Ireland also joined the funding round with an R&D investment that will enable Powervation to further strengthen its design team in Cork to accelerate new product development.
"We are delighted by the strong backing of our investor group and to have Semtech Corporation on-board as a strategic investor, as they are a market leader in silicon solutions for the high performance communications and computing markets," said Powervation CEO Mike McAuliffe.
"These investments endorse our progress with key customers and our business potential as we deliver the unique benefits of our Intelligent Digital Power platform to the wider market
"We have strong momentum in the communication and module spaces and are excited by the early adoption of our new PV3201 Intel VR12.x DDR digital controller series by leading Server/Computing OEMs.
"This funding round will help fuel that market momentum and enable us to accelerate our commercial build-out as a company".
SEP recently led a £20m investment in SkyDox, a provider of cloud-enabled document collaboration software for the enterprise sector, alongside the Business Growth Fund.
Copyright © 2012 AltAssets
Read the article as originally published here: http://www.altassets.net/private-equity-news/by-news-type/deal-news/scottish-equity-partners-in-series-c-round-for-irelands-powervation.html