ROHM's New SiC Schottky Barrier Diodes Featuring Industry-Low VF with High Surge Resistance
Significantly improves efficiency in a variety of PFC circuits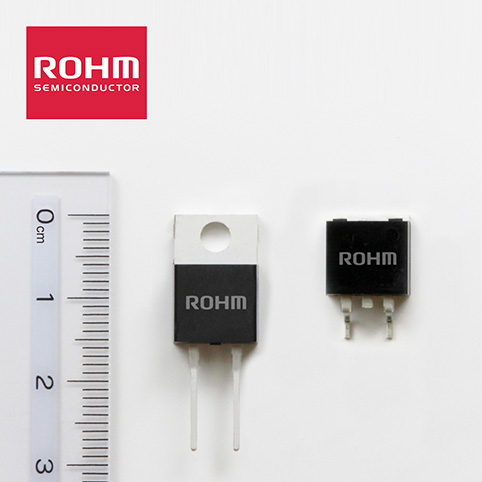 Kyoto and Santa Clara, Calif., – October 13, 2016 – ROHM has recently announced the availability of 3rd generation SiC Schottky Barrier Diodes (SBDs) optimized for power supply PFC circuits in servers and high performance PCs.
The SCS3 series adopts a new structure that improves upon the industry-low VF characteristics of ROHM's 2nd Generation SiC SBDs (1.35V @ 25C) while providing increased surge resistance. This contributes to greater application efficiency, enabling support for power supply PFC circuits in servers, high-performance PCs, and the like.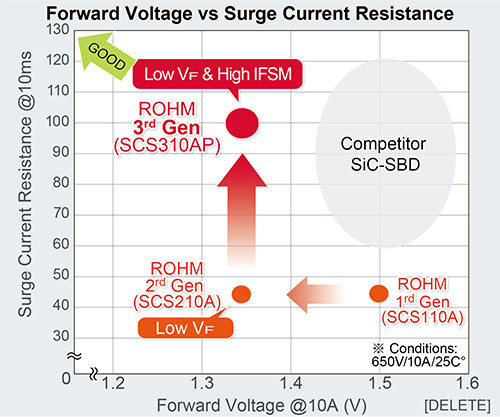 In recent years, power components that provide higher efficiencies are being required in order to improve power conversion efficiency and energy savings in the power electronics market, which includes industrial power supplies, solar power systems, electric vehicles, and home appliances. Compared to conventional silicon products, SiC devices feature superior material characteristics, making them the preferred choice in power applications. In particular, in equipment such as servers where maximum power supply efficiency is demanded, the high-speed recovery characteristics of SiC SBDs have proven effective in increasing device efficiency when used in PFC circuits. Surge current resistance is also an important consideration in high power applications.
ROHM's 1st and 2nd generation SiC SBDs continue to be well-received and regarded in the industry, but to expand applicability a new device structure was adopted that allowed ROHM to improve the industry-leading VF characteristics of its 1st and 2nd generation products while also significantly increase surge resistance.
Availability: Now
Pricing: Starting from $2.28 / unit (100 pcs)
Key Features
1.High surge current resistance
ROHM's new 3rd generation SiC SBDs adopt a JBS (Junction Barrier Schottky) structure that provides higher surge current resistance with excellent leakage characteristics.
ROHM
3rd
Generation
SiC-SBD
ROHM
2nd
Generation
SiC-SBD
Absolute Maximum Ratings
Surge Current
Resistance
10msec, sin wave
TO-220AC package
82A
40A
Electrical Characteristics
VF(V)
Typ.
Tj=25°C
1.35
1.35
Tj=150°C
1.44
1.55
IR(µA)
Typ.
Tj=25°C
0.03
2
Tj=150°C
2
30
2. Industry's lowest forward voltage (VF=1.35V@25°C, 1.44V@150°C) Optimized processes and device structure have made it possible to improve upon the industry's lowest VF characteristics of ROHM's 2nd generation SiC SBDs, reducing conduction loss for greater efficiency and performance.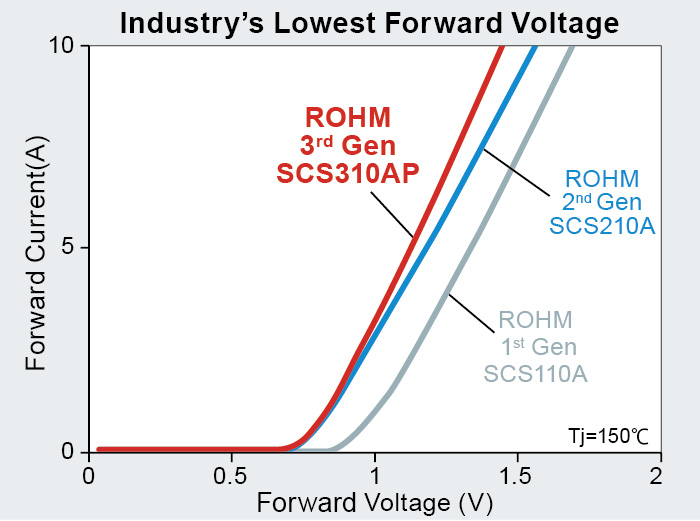 3. Low current leakage
Generally, as forward voltage is reduced reverse current leakage increases. However, ROHM's new JBS structure minimizes leakage current along with forward voltage characteristics, resulting in 20x less leakage compared to 2nd Generation SiC SBDs at the same rated voltage (650V, Tj=150ºC).
Lineup
ROHM's 3rd Generation SiC SBDs are currently available in the TO-220ACP package. A surface mount type (TO-263AB) is scheduled for future release based on market demands.
☆: Under Development
Applications
Power supply PFC circuits for PCs, servers, AC, and more.