ROHM to Resume Full-scale Production in January ahead of Schedule
Recovers from Flood Damage in Thailand, Issues Safety Declaration
2011-12-21
Kyoto, Japan—Semiconductor manufacturer ROHM Co., Ltd., will resume full-scale production of all products affected by the flooding in Thailand on January 1, 2012.
Due to the effects of flooding in the country, the company had been forced to halt production of ICs, transistors, diodes, resistors, and tantalum capacitors (all five products it manufactures in Thailand) at LAPIS Semiconductor (Ayutthaya) Co., Ltd., in Rojana Industrial Park in Ayutthaya on October 8, and then at ROHM Integrated Systems (Thailand) Co., Ltd., in Navanakom Industrial Park in Pathumthani on October 15. ROHM has been working since to resume operations at both facilities.
As soon as operations were halted at ROHM Integrated Systems (Thailand), workers began recovery efforts on second and third stories of the facility, where floodwaters did not reach, in order to restore equipment to good condition and prepare for a resumption of operations, which came when manufacturing of some ICs, transistors, diodes, and resistors restarted on November 26. While progressively ramping up production volumes there, ROHM also made a series of emergency investments to dramatically boost production capacity at other Group manufacturing facilities such as ROHM Electronics Philippines, Inc., enabling the manufacturer to secure sufficient supply to fulfill orders from customers, including contract manufacturing volume.
In addition to moving submerged equipment and dies to other Group manufacturing facilities in the immediate aftermath of the flooding, ROHM worked to restore power, water, and other infrastructure while performing maintenance work on usable production equipment, paving the way for some production operations to resume at a floating plant in late November. Once the water level began to recede at the end of November, the company began pumping out water from the first story of its facilities and repairing equipment in a coordinated effort to prepare for the resumption of operations. At LAPIS Semiconductor (Ayutthaya) Co., Ltd., whose building has a flat roof, officials recognized the risk of future flooding and began making arrangements to continue production at alternate sites such as LAPIS Semiconductor Miyazaki Co., Ltd., in the city of Miyazaki in Japan's Miyazaki Prefecture in the event of a recurrence. The ROHM Group has also sought to restructure its supply chain, for example by obtaining approval from customers for plant changes and other adjustments, in order to smooth alternate production at other facilities should such steps become necessary in the future. As a result of these efforts, ROHM's production operations will reach normal supply volume on January 1. The company is also working to build safety inventory so that it can fulfill emergency orders and meet other needs from customers. It plans to resume normal operations, including inventory, in February.
The ROHM Group has always worked to build stable supply capability, for example by operating multiple manufacturing facilities for each product. In response to the flooding in Thailand, the company has redoubled those efforts in a bid to strengthen its BCM system. Going forward, ROHM will continue to build robust supply systems to ensure its ability to live up to its obligations to customers by taking advantage of its experience with both the flooding in Thailand and the Great East Japan Earthquake that struck Japan in March 2011, which damaged LAPIS Semiconductor Miyagi Co., Ltd., (Ohira, Miyagi Prefecture) and ROHM Tsukuba Co., Ltd., (Tsukuba, Ibaraki Prefecture).
The resumption of full-scale production is not expected to have a significant effect on the financial outlook for the fiscal year ending March 31, 2012, as announced on November 9.
■Profile of ROHM Integrated Systems (Thailand) Co., Ltd.
Name:

ROHM Integrated Systems (Thailand) Co., Ltd.

Address:

101/94, 102 Navanakorn Industrial Zone, Moo 20, Phaholyothin Road,
Tambol Khlong-Nueng, Amphur Khlong-Luong, Pathumthani 12120 Thailand

Representative:

Hiroshi Minami, President Capital: 1,115,500,000 baht Number of employees: 3,323

Products:

ICs, transistors, diodes, resistors, tantalum capacitors
■Profile of LAPIS Semiconductor (Ayutthaya) Co., Ltd.
Name:

LAPIS Semiconductor (Ayutthaya) Co., Ltd.

Address:

1/39 Rojana Industrial Park, 1/39 Moo 5, Tambol Kanham,
Amphur U-Thai, Ayutthaya 13210 Thailand

Representative:

Takaki Yamada, President Capital:700,000,000 baht Number of employees: 895

Products:

ICs
■Flood timeline (for reference)
ROHM Integrated Systems (Thailand) Co., Ltd.(RIST)

Monday,
October 17

The levee surrounding Navanakom Industrial Park is breached, triggering an evacuation of all personnel except facility security personnel and some employees seconded from Japan.

Thursday,
October 20

Floodwaters reach the plant.

Sunday,
October 23

About 30 personnel are dispatched to begin removing some test boards, products, dies, and other equipment from the facility.

Wednesday,
October 26

The facility begins deploying generators for lighting, facility maintenance, and other purposes.

Tuesday,
November 8

Deployment of RIST employees in support of other ROHM Group manufacturing facilities begins.

Thursday,
November 17

The power company begins supplying power on a temporary basis, and powering of manufacturing processes begins.

Saturday,
November 26

Some production of ICs, transistors, diodes, and resistors resumes.

Saturday,
December 10

Power is fully restored. Employee access to transportation for commuting to work resumes, and dormitories are reopened.

Tuesday,
December 20

Officials plan to fully resume production on January 1, working primarily on the second and third floors.
■Semiconductor assembly line after resuming operation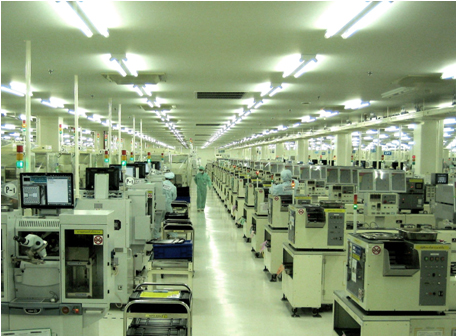 ■Damage and status of restoration efforts at ROHM Integrated Systems (Thailand) Co., Ltd. (for reference)
| | | |
| --- | --- | --- |
| | | |
| Conditions around the plant | | Conditions around the plant |
| | | |
| Conditions around the plant | | Tantalum capacitor manufacturing line |
| | | |
| Employees get around by boat. | | Workers bring in a temporary generator. |
| | | |
| The power company works to reconnect power. | | Water is pumped out of the industrial park. |