ROHM and EcoReco Develop an Innovative Electric Scooter
Broad feature set and expanded connectivity provide new levels of convenience, comfort, and fun in the personal transportation sector
Santa Clara, Calif., and Campbell, Calif., – June 22, 2016 – ROHM and EcoReco today announced their collaboration on a new electric scooter utilizing ROHM Group sensors RPR-0521RS and KXG03.
EcoReco's Model R scooter prototype, which will be showcased at Sensors Expo 2016, represents an innovative new take on the personal electric vehicle by leveraging smart sensors and wireless connectivity to deliver unprecedented convenience, comfort, and performance. The scooter integrates ROHM's RPR-0521RS proximity + ambient light sensor along with Kionix's 6-axis accel-gyro combo sensor, KXG03.
The RPR-0521RS is used to calculate the approximate weight of the rider in order to optimize the throttle curve of the scooter, while the KXG03 provides a number of improvements by utilizing proprietary sensor fusion software to clean up driving noise, activate kick extension/amplification mode without false starts, and perform auto brake and turn light operations. In addition, when the KXG03 has determined that a crash has occurred the phone will automatically send a message to the user's emergency contact. And for theft prevention if movement is detected via the accel-gyro when the scooter is in a 'locked' state anti-theft routines will be initiated (i.e. alarm, notification).
"ROHM continues to contribute to society by supplying groundbreaking products based on the concepts of energy saving, safety, comfort, and compactness," said Satya Dixit, Senior Director of Solutions Marketing at ROHM. "EcoReco scooter matches with our company vision, and we believe that it will take the world of personal transportation to new levels of convenience, comfort, and fun in the future."
Jay Sung, CEO at EcoReco, said, "We are making the most practical and versatile personal transportation available to solve the last-mile issue in urban environments, and we believe ROHM's technologies and support are the best way to help us get there. After evaluating multiple potential solutions, we are excited about working with ROHM to bring the smartest, safest, and most user-friendly electric scooter to the market. Specifically, ROHM's RPR-0521RS and KXG03 deliver the complete next-generation features and functionality we need to help us significantly reduce the product development time for the Model R."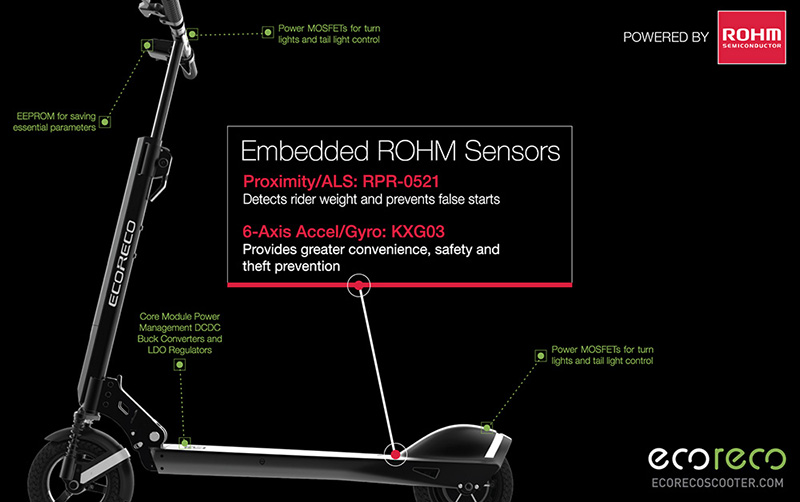 ROHM will be exhibiting this breakthrough technology at Sensors Expo 2016, the premiere event in applied sensors (for more information, click here).
Sensors Expo 2016
Dates: June 21-23, 2016
Location: The McEnery Convention Center, San Jose, CA
Booth number: 616
About: Sensors Expo & Conference has established itself as North America's premier event focused exclusively on sensors and sensor-integrated systems.
About EcoReco
EcoReco Corp. is a start-up based in Silicon Valley, California dedicated to providing eco-friendly alternatives to today's energy-depleting, environment-threatening norms in urban transportation. The EcoReco team strives to innovate and develop practical and affordable technologies in order to achieve its goals and deliver the right product with the right business model to create sustainable value. EcoReco's main product is currently an eco-friendly, efficient, portable, smart last-mile electric vehicle, in the form of a kick scooter, designed for adults in everyday urban usage. It is equipped with an array of advanced technologies and features, making it the most practical and economical last-mile solution on the market. Many of EcoReco products are commercially available through major retail stores in the US, including Best Buy, Modell's Sporting Goods, and Brookstone.