New SOM Based on NXP® i.MX 7D MPU and ROHM's BD71815GW PMIC
ROHM and Embedded Artists collaborate to develop a SOM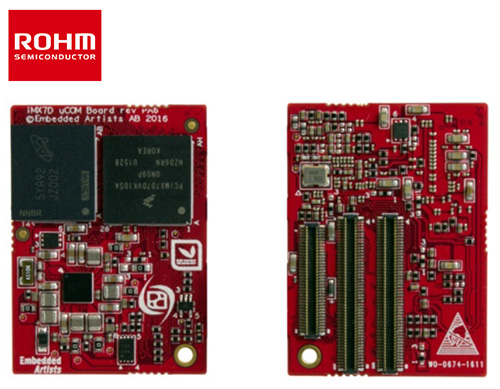 Santa Clara, Calif., and Malmö, Sweden – May 18, 2016 – ROHM and Embedded Artists (EA) have co-developed an ultra-compact System on Module (SOM), pairing the i.MX 7Dual MPU from NXP Semiconductors with ROHM's new BD71815GW PMIC.
The SOM, which measures just 27mm by 37mm, offers users the computing power of both ARM® Cortex®-A7 and Cortex-M4 cores along with 8GB eMMC, 1GB LP-DDR3, and a host of peripherals – all efficiently powered by single integrated power management and charger IC.
The small size of the SOM enables space-sensitive applications (i.e. handheld terminals, security cameras, home automation), while the SOM board and adapter allow access to all I/O & peripherals available on the i.MX 7D applications processor.
Users can purchase the SOM directly from EA or through its distributor Digi-Key. An available adapter board connects the SOM to an existing EA carrier board to provide a cost-effective development system (EVK) for fast prototyping.
"By working closely with both NXP and EA we were able to help EA achieve an extremely small footprint while maintaining performance and maximizing power efficiency," said Tadashi Kambayashi, Director of Corporate Marketing at ROHM.
Anders Rosvall, Technical Director at Embedded Artists, noted "It was great to work with quality products from ROHM and NXP when developing the iMX7 computer-on-module. And we have even more products lined up that utilize ROHM's PMICs. We see ROHM as a strategic partner that will allow us to offer our customers products with superior specifications."
"It's great to see our eco system partners working together, providing value added features and platforms that enable our end customers to quickly prototype and develop exciting new products," said Ron Martino, Vice President, i.MX Applications Processor and Advanced Technology Adoption at NXP.
For more information, please visit EA's iMX7 Dual uCOM Board page.
About Embedded Artists
Embedded Artists is a leading provider of Computer-on-Modules and evaluation boards for NXP's ARM application processor and microcontroller families. Embedded Artists is a Proven Partner to NXP, delivering stable and proven platforms to customers, allowing them to focus on their core business and lowering their development risk. Founded in 2000 and located in Malmö, Sweden, the company has served over 40K customers in more than 75 countries.
For more information, visit: www.EmbeddedArtists.com