New Highly Integrated Low-Power PMIC for NXP Semiconductors® i.MX 7Solo/7Dual Processors
Cost- and power-optimized for rechargeable battery applications, including e-readers, wearables, home automation, and portable consumer/industrial devices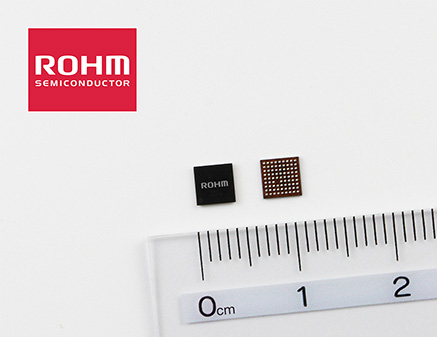 Kyoto and Santa Clara, Calif., – May 18, 2016 – ROHM has recently announced the development of a highly integrated system PMIC optimized for NXP i.MX 7Solo and i.MX 7Dual applications processors.
The BD71815AGW integrates 5 low-Iq buck regulators, 7 LDOs, a JEITA-compliant 1S charger, fuel gauge with Coulomb Counter, LED driver, RTC, and extensive monitoring and protection circuits, helping customers realize the power efficiency of NXP's i.MX 7D/S processors by supporting all possible power modes – including the new Low Power State Retention mode (LPSR). The switching regulators deliver 82% to 92% efficiency (depending on input and output voltages) across the entire load range, while the high-resolution 15-bit sigma delta ADC converter and proprietary algorithm achieve a fuel gauge accuracy of 3%, significantly extending battery life during both operational and sleep modes.
Small size is a critical factor in many compact applications such as wearables, mobile payment systems, and smart home devices such wireless cameras and doorbells. To meet this need, ROHM offers the BD71815AGW in a compact 4mm x 4mm x 0.62mm chip scale package (WL-CSP) that reduces footprint by 75% over conventional products. In addition, high switching frequency (6MHz) allows very small inductors and capacitors to be used, and the highly integrated design eliminates the need for an external LED driver. These improvements make it possible to reduce total board space by 50% compared to less integrated solutions utilizing slower switching PMICs housed in the standard QFN package.
"We believe the BD71815AGW represents a new benchmark in terms of power consumption and efficiency, with the integrated charger and fuel gauge requiring only 20uA during deep sleep mode while high switching frequency up to 6MHz allows the user to develop cost- and space-optimized solutions for portable battery-powered devices," said Mike Smith, Senior Vice President and General Manager at ROHM.
The BD71815AGW is highly configurable via OTP and I2C software, making it possible to optimize the power rail power-up output voltages and power-on sequence for iMX 6SoloLite, i.MX 6UltraLite, or similar applications processors. Many operating parameters and device characteristics can be configured and/or programmed to support a wide variety of system configurations and use cases.
"NXP iMX application processors address a diverse application landscape. Pairing ROHM's BD71815AGW with our i.MX 6UL, i.MX 6SL, i.MX 7S and i.MX 7D processors strengthens our system offerings where strong emphasis is placed on low power, size, and cost," said Geoff Lees, Senior Vice President and General Manager of NXP MICR Business Line.
To facilitate evaluation and design-in, ROHM provides a PMIC evaluation board, Linux and Android driver source code, and an EVK along with SOM and reference applications software from its partners Embedded Artists and eInfochips.
Striving to be a key member in the NXP ecosystem, ROHM is continually broadening its PMIC lineup to support the diverse applications addressed by the expanding i.MX processor family. And adding more product variants optimized for different applications and price points allows ROHM to provide industry-leading efficiency and standby power consumption at the lowest solution cost.
About NXP
NXP Semiconductors N.V. (NASDAQ:NXPI) enables secure connections and infrastructure for a smarter world, advancing solutions that make lives easier, better and safer. As the world leader in secure connectivity solutions for embedded applications, NXP is driving innovation in the secure connected vehicle, end-to-end security & privacy and smart connected solutions markets. Built on more than 60 years of combined experience and expertise, the company has 45,000 employees in more than 35 countries and posted revenue of $6.1 billion in 2015. Find out more at www.nxp.com.