New Aistin Blue Sensor Platform Co-Developed by iProtoXi and ROHM Semiconductor / Kionix
Highly adaptable compact modular sensor system with Bluetooth LE and crystal antenna ideal for the IoT and wearable markets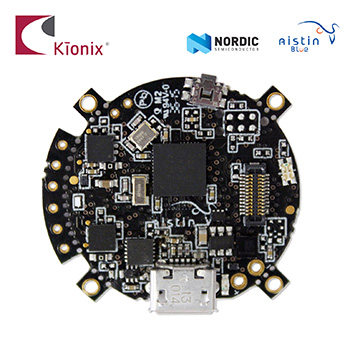 Kyoto, Japan and Ithaca, NY – November 2, 2016 – ROHM Semiconductor / Kionix has selected iProtoXi's Aistin Blue to be the hardware platform for its IoT Evaluation Kit. The Aistin Blue 3XX series is based on Nordic Semiconductor's nRF51822 Bluetooth Low Energy (BT 4.1) SoC. The Aistin Blue BTL4XX series, utilizing Nordic's latest Bluetooth Low Energy (BT 4.2) SoC, the nRF52832, is also available. Aistin Blue boards are specifically designed for low power, battery operated wireless IoT and wearable solutions.
The Aistin Blue development platform incorporates many of the latest sensors from ROHM/Kionix. Included are sensors for detecting 3D-acceleration, 3D-magnetism, 3D-rotation, humidity, air pressure, and temperature.
Nordic's nRF51822 SoC incorporates a 32-bit ARM® Cortex™- M0 CPU, 2.4GHz multiprotocol radio, 256kB/128kB Flash memory and 32kB/16kB RAM, while the nRF52832 SoC features a 64MHz, 32-bit ARM® Cortex™-M4F CPU, 2.4GHz multiprotocol radio, 512kB Flash memory, 64kB RAM, and an NFC™ tag for consumer-friendly "Touch-to-Pair" operation. Both Nordic SoCs are fully compliant with the latest version of the Bluetooth specification.
The SoCs allow the Aistin Blue to support over-the-air firmware updates using Bluetooth LE. The boards work out-of-the-box with Android applications, and application programming is easy with Nordic's development tools.
Kionix's Evaluation Kit Software includes both Kionix Windows Sensor Evaluation and Multi-OS Evaluation Software. The Windows-based software is GUI driven to allow easy sensor configuration and data acquisition while the Multi-OS software is command-line driven for more flexible and sophisticated evaluation and algorithm development.
With dimensions of 27/32 mm x 4.2 mm (0.6 mm PCB), Aistin Blue is small enough for wearable devices and enables prototype development without the need for custom hardware.
This platform is ideal for teaching/training purposes, fast proof-of-concept prototyping, and as a final product platform. With production-ready BT-LE intelligence built in, sample applications range from fitness and activity tracking, monitoring hit and/or movements in sports equipment, and detecting motion, shaking, and orientation in remote controls to use as a weather station and burglar alarm.
Boards are easy to extent with custom add-ons and flex PCBs using small 24 pin Aistin Bus24 connector, but keeping the solution still tiny enough to fit wearable size. Possible extensions are for example displays, touches, buttons and new sensors like optical heart rate sensors.
Aistin Blue boards and Kionix's full IoT Evaluation Kit will be showcased at Electronica from November 8 to 11 (Hall A5, Stand 542) and Slush from November 30 to December 1 (where iProtoXi and ROHM/Kionix will share a common stand at Business Oulu's booth).
About Kionix
Kionix, Inc., a ROHM Group Company, is a global MEMS sensor manufacturer based in Ithaca, NY, USA, offers high-performance, low-power accelerometers, gyroscopes, and 6-axis combination sensors plus comprehensive software libraries that support a full range of sensor combinations, operating systems and hardware platforms. Leading consumer, automotive, health and fitness and industrial companies worldwide use Kionix sensors and total system solutions to enable motion-based functionality in their products. Kionix is ISO 9001:2008, TS 16949, and TS 14001:2004 certified. Kionix is a wholly owned subsidiary of ROHM Co., Ltd.
About Nordic Semiconductor
Nordic Semiconductor ('Nordic') is a fabless semiconductor company specializing in ultra low power (ULP) short-range wireless communication in the license-free 2.4-GHz and sub-1-GHz Industrial, Scientific and Medical (ISM) bands. Nordic is a Norwegian public company listed on the Oslo stock exchange (OSE: NOD). The company's ULP wireless solutions enable its customers to build wireless connectivity into everything from mainstream consumer PC peripherals, sports & fitness devices, toys and RF remote controls through to the most advanced and innovative 'game-changing' wireless devices such as IoT sensors, beacons, health monitors and home automation.
About iProtoXi
iProtoXi is a design house from Finland that makes tiny, innovative, energy efficient, wireless IoT and wearable customer projects. iProtoXi offering and product platforms are used as building blocks for many kind of IoT, health and fitness solutions. iProtoXi is privately owned.