IoT Developers Kit Based on NXP® i.MX 7D MPU and ROHM's BD71815GW PMIC
ROHM and eInfochips collaborate and demonstrate a small, energy-efficient real-time audio/video Smart camera application using the new iMX7D-based developers kit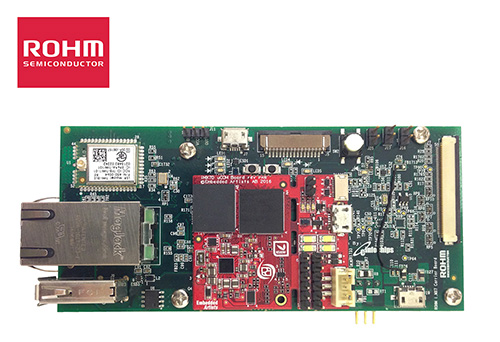 Santa Clara, Calif., and Sunnyvale, Calif., – May 19, 2016 – ROHM and eInfochips today unveiled a live-streaming demo of a smart IoT camera reference design at the 2016 NXP FTF Technology Forum.
The reference design combines a state-of-the-art System On Module (SOM) incorporating the NXP i.MX7 Dual applications processor and ROHM's BD71815GW Power Management Integrated Circuit (PMIC) with a baseboard that provides access to various sensors and peripherals via eInfochips' Software Development Kit (SDK), including MicroSD and USB slots that enable developers to store data and interface with external devices such as a WiFi module for streaming audio and video to a smartphone. The built-in battery allows the device work in any location without wiring for power, and an LCD interface is included for enabling two-way video that may be required for certain applications.
"Manually or automatically triggering the motion detector inititates audio/video streaming to your smartphone or local/remote storage", said Satya Dixit, Senior Director of Solutions Marketing at ROHM. "The smart camera reference design demonstrates the system's low quiescent current and fast on time, essential for today's products where long battery life is a must."
"The BD71815GW integrates a battery charger, coulomb counter, multiple voltage rails, and an intelligent power sequencer that make full use of the ipower modes on the i.MX 7Dual processor," said Robert Thompson, Global i.MX Ecosystem Manager at NXP. "And partnering with eInfochips provides our eco partners and end customers with an attractive, platform for fast prototyping."
Parag Mehta, Chief Marketing and Business Development Officer at eInfochips, said, "We are excited to be working with ROHM on the smart camera reference design, providing hardware and software services on the reference design."
The reference kit is comprised of a SOM module and schematics, baseboard with schematics and layout, and Linux BSP. Application software will be made available from eInfochips.
About eInfochips
eInfochips has more than 20 years of experience in designing end-to-end systems with design centers supporting customers locally in North America, Europe and Asia. eInfochips is a global product innovation partner recognized for technology leadership by Gartner, Frost & Sullivan, NASSCOM and Zinnov. eInfochips has contributed to 500+ products for top global companies, with more than 10 million deployments across the world. eInfochips, a partner of NXP, provides custom hardware and software design services on iMX platforms. Visit us at www.einfochips.com, or stay connected on LinkedIn, Facebook, SlideShare, Twitter and YouTube. To request information, contact marketing@einfochips.com