BP5872 isolated high power LED driver module

Overview
ROHM developed a thinner, isolated high power LED driver than its standard BP5870 and added dimming support, enabling compatibility with a wider range of lighting devices.
Additional features include universal input and high efficiency operation, making it possible to easily add value to LED lighting applications of all types.
Key Feature 1 : Thinner form factor results in greater versatility
LEDs tend to be much thinner than conventional lighting products.
ROHM LED drivers feature a thickness of only 15mm - 30% thinner than existing configurations - making them ideally suited for compact LED devices.

Key Feature 2 : Dimming possible via analog input
Dimming over a wide range (10-100%) is easily enabled using analog input.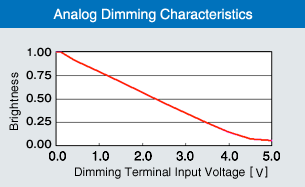 Key Feature 3 : PFC circuit built in for a power factor of 0.99
| | |
| --- | --- |
| Power factor is heavily influenced by the resistance loss through the transformer windings and supply lines. The BP5872 features an active filter method with built-in PFC circuit that increases the power factor to 0.99, enabling support for high frequencies as well as compliance with IEC61000-3-2. | |
Key Feature 4 : Pseudo-resonance method utilized for 83% efficiency
| | |
| --- | --- |
| A low noise, high efficiency pseudo-resonance switching method is used that minimizes switching loss across the switching MOSFET for improved efficiency. | |
Electrical Characteristics
*Unless otherwise specified, Vi=AC80 to 264VAVo=45.6VATa=25ºC
Parameter
Symbol
Standard
Unit
Remarks
Min.
Typ.
Max.
Input Voltage Range
Vi
80
100
264
VAC
50/60Hz
Input Power Factor
0.90
0.95
-
-
Vi=AC100V
Output Voltage Range
Vo
60
-
91.2
V
Io=300mA
Output Current
Io
270
300
330
mA
-
Output Open Voltage
Vopen
-
-
120
V
Io=0mA
Parameter Definitions
Output Voltage Range: The range of output voltages available for constant current output.
External Dimensions
Lineup
Isolated High Power Modules
Part No.
Input
Voltage
[ V ]
Output
Voltage
[ V ]
Output
Current
[ mA ]
External
Dimensions
[ mm ]
Features
BP5870
AC80 to 264
30 to 45.6
150 to 2 Output / 300 to 1 Output
210.5 to 30.5 to 27.9
Built-in PFC circuit
Compatible with both 0.5W
and 1W LEDs
Universal input
☆BP5872
AC80 to 264
60 to 91.2
300
245.5 to 32.5 to 17.6
Built-in PFC circuit
Supports analog dimming
Universal input
☆BP5873
AC85 to 264
35 to 55
270 to 2 Output
230.5 to 45.5 to 15.9
Built-in PFC circuit
Supports analog dimming
Universal input
BP5875
AC80 to 264
60 to 91.2
300
65 to 130 to 19.2
No external circuit required
Analog dimming function built in
Universal input
☆ : Under Development
Applications
| | |
| --- | --- |
| . Canopy lighting . Fluorescent Lamp . Signage and more | |