3rd Generation SiC Schottky Barrier Diodes
SCS3xxA Series

Overview
Utilizing SiC Schottky barrier diodes (SBD) instead of fast recovery diodes (FRD) in PFC circuits in power supplies improves efficiency during continuous mode operation.
ROHM's SCS3xxA series of 3rd generation SiC SBDs maintain the industry's lowest VF characteristics of its 2nd generation products while providing higher surge current resistance.
Optimized for power supply PFC circuits.
Key Feature 1: Low VF and high surge resistance ideal for power supply PFC applications
A JBS (Junction Barriery Schottky) structure is used to achieve higher surge resistance.
In addition, VF characteristics is improved over 2nd generation SiC SBDs, along with leakage characteristics, making it possible develop higher performance products.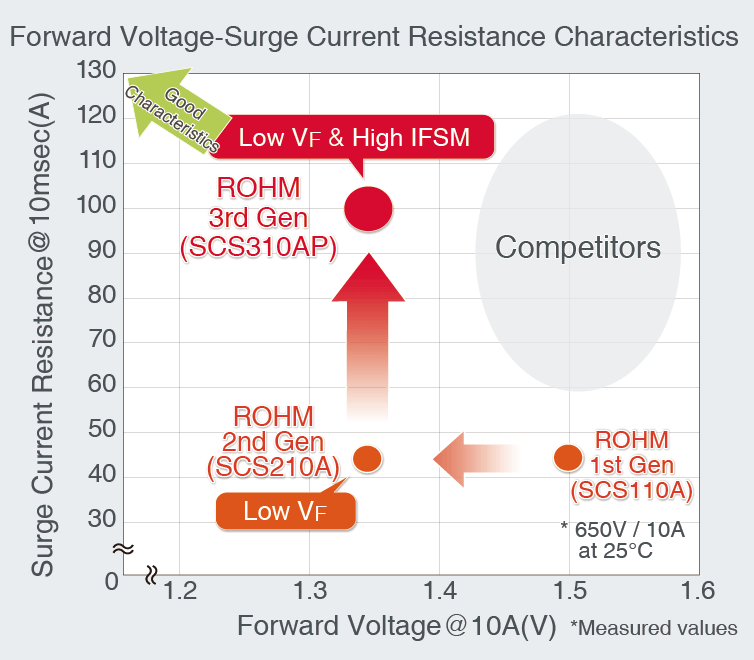 ROHM
3rd
Generation
SiC-SBD
ROHM
2nd
Generation
SiC-SBD
Absolute Maximum Ratings
Surge Current
Resistance
10msec, sin wave
TO-220AC package
82A
40A
Electrical Characteristics
VF(V)
Typ.
Tj=25°C
1.35
1.35
Tj=150°C
1.44
1.55
IR(µA)
Typ.
Tj=25°C
0.03
2
Tj=150°C
2
30
Key Feature 2: High efficiency achieved utilizing low-loss SiC SBDs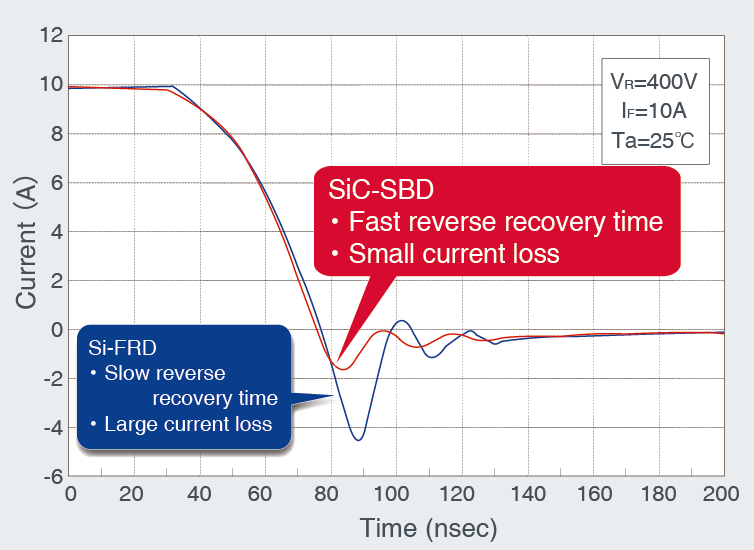 Compared to silicon FRDs, SiC SBDs feature faster reverse recovery time and lower switching loss, contributing to higher device efficiency.
Applications

Lineup
☆: Under Development