ROHM presents most comprehensive range of Automotive Grade LDO Regulators
AEC-Q100-qualified devices provide superior characteristics, high reliability and miniaturization options for a multitude of Automotive applications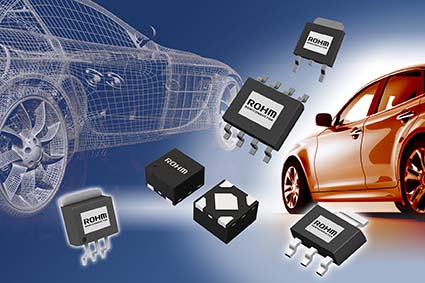 Willich-Münchheide, August 1st 2016 - ROHM has recently announced the availability of two new LDO regulator families, complementing the existing portfolio of LDOs and bringing the total number of its automotive-grade LDOs up to 184. With its miniaturized package size, ROHM's new BUxxJA2MNVX-C series is the world's smallest Automotive-grade LDO regulator whereas the BD7xxLx series provides unmatched quiescent current features. Customers are now able to choose from multiple voltage and current options as well as packaging solutions to meet the exact requirements of their application, whether in automotive body, power train and infotainment or advanced driver assistance systems (ADAS). Both line-ups are based on ROHM's vertically integrated product system along with its proprietary analog design process and package technologies to achieve high efficiency in a compact form factor while adding to design flexibility and reliability.
In recent years, Automotive power supply ICs continue to increase in sophistication and functionality, accompanied by a greater need for an expanded offering to cover a wide range of characteristics and application requirements – such as package type and output current – instead of simply focusing on an all-in-one-solution. The BD7xxLx series together with the BD4xxMx series is optimized for all applications which are connected to the battery and which require an extreme low quiescent current. Thanks to its wide input voltage range (up to 50V max. voltage) and wide operating temperature range spanning -40° to +125°C, this family is a perfect solution for automotive body, powertrain and infotainment systems. The BD7xxLx line-up is composed by 8 part numbers, with optional output voltage from 3.3V and 5V, output current capability form 200mA up to 500mA and 3 standard package types.
The proliferation of accident prevention measures and automated driving systems are demanding advanced safety systems that deliver higher performance. While this increases the number of sensors, camera modules and other mounted components, there is also a need to decrease part size to improve design flexibility and reduce vehicle weight. However, so far it has been difficult to design power supply ICs that deliver high reliability in a very small form factor. Until now, for harsh automotive system environments with increased noise, temperature and vibration, the smallest package size that could provide the necessary level of reliability has been 1.5mm2. The new AEC-Q100 qualified BUxxJA2MNVX-C series provides automotive grade reliability in an ultra-compact 1mm2 package, decreasing the mounting area by 55% over existing products. At the same time, stand-by current consumption (35uA) and load regulation characteristics (65mV load fluctuation) are reduced by half, contributing to smaller, higher performance automotive safety modules. Unlike conventional products requiring an external capacitance of at least 1.0uF to prevent oscillation, the new regulator types support smaller external capacitors as low as 0.22uF for further miniaturization.
Key Features BD4xxMx/BD7xxLx Series
* Ultra-Low Quiescent Current LDO Regulators
The shift towards greater computerization in vehicles has led to an increased number of MCUs required; moreover, the reduction of fuel consumption demands for power consumption reduction for each power supply ICs to improve system energy savings. Based on ROHM's proven analog design technology, the BD7xxLx series reduces no-load current consumption to unmatched 6uA.
* Ceramic capacitor compatibility reduces mounting area and costs
Optimized design ensures stable output voltage without fluctuations with an external capacitance of 4.7uF- which eliminates the need for larger external capacitors, minimizing both mounting area and costs.
* Multiple package types for broad compatibility
Redesigned circuitry resulting in reduced block numbers and a reconfigured chip layout enable to offer 3 different package types (TO252-3, SOT223-4F and HTSOP-J8), from robust power packages for harsh environments to compact models for high-density applications.
* Input/Output Specifications
- Input voltage up to 50V
- Output voltage 3.3V or 5V
- Output current 200mA or 500mA
* Applications
Automotive body, powertrain and infotainment systems.

Key Features BUxxJA2MNVX-C Series
* The industry's smallest (1mm2) automotive grade LDO regulators
ROHM leverages its industry leading analog design, process, and package technologies to develop the world's smallest automotive-grade LDO regulators, achieving all the required characteristics in a 1mm2 area that reduces footprint by 55% over conventional 1.5mm2 products. In addition, AEC-Q100 qualification provides the high degree of reliability demanded for automotive applications.
* Achieves simultaneous low current consumption with excellent response characteristics
The BUxxJA2MNVX-C series utilizes original circuit technology to achieve an ideal balance between response characteristics (65mV load variation) and current consumption (35uA – half that of conventional products).
* Stable operation with an external capacitance as low as 0.22uF
Power supply IC's require an external capacitor as a countermeasure against output fluctuations/oscillations during input variations. Unlike conventional solutions that require 1.0uF, ROHM's new IC ensures stable output voltage with 0.22uF capacitor, making it possible to use smaller capacitors that contribute to a smaller overall solution.
* Input/Output Specifications
- Input voltage 1.7V to 6.0V
- Output voltage 1.0V to 3.4V
- Output current up to 200mA
* Applications
Sensors, cameras and radar for ADAS, drive recorders and other automotive systems requiring greater miniaturization.
Availability: Both series are available now (Samples)
- New Product Bulletin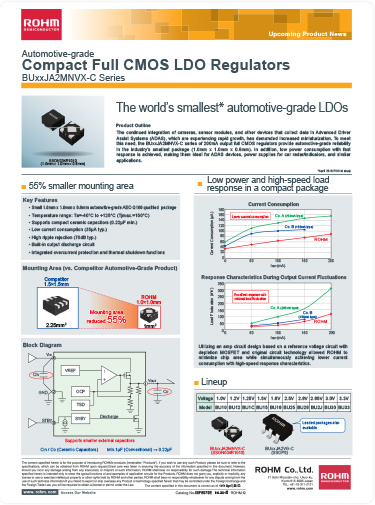 Compact Full CMOS LDO Regulators

(PDF : 384KB)