Wireless power supply chipset product information (BD57015GWL/BD57020MWV)
Overview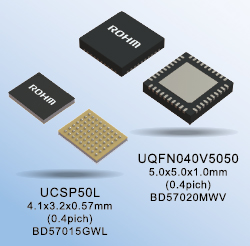 Wireless power transmission technology that eliminates the need for power cords during charging is expected to see widespread adoption with the emergence of wireless protocols such as the Qi standard established by WPC for smartphones and other portables. Until now, the Qi standard was limited to the low power (<5W) range, but recently specifications were established for medium power transmission (<15W) - comparable to many wired charging systems.
The BD57015GWL and BD57020MWVare receiver/terminal (10W) and transmission/charging (15W) ICs compatible with WPC's Qi standard for medium power transmission. In addition, the BD57015GWL is also compliant with the PMA wireless power transmission standard (5W) developed for the North American market, making it the first dual-mode receiver/terminal IC in the industry.
Features 1:Compliant with the medium power specifications of WPC's Qi standard
ROHM's new chipset complies with the latest WPC's Qi standard for medium power transmission, ensuring support for 10W class wireless charging. Of course compatibility with the existing low-power specifications (<5W) is provided. This makes it possible to increase charging current by up to 2x compared with existing standards, expanding applicability to smartphones, tablets, and the like.
[Transmission / Charger Side : BD57020MWV(15W transmission power)]
Qi-compliant transmitter configured using LAPIS Semiconductor's low power (U8) MCU
[Receiver / Terminal Side : BD57015GWL(10W receiving power)]
・Variable LDO output voltage : 5-10V
・Automatic Qi / PMA standard detection
Features 2:Built-in Foreign Object Detection (FOD)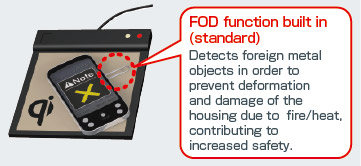 The Qi standard includes requirements for foreign objection detection. To meet this need, ROHM integrates foreign object detection for medium power applications, providing a higher level of safety during device operation.
Features 3:Complies with both Qi and PMA standard receiving protocols
To ensure greater compatibility, the chipset is also compliant with the international PMA standard for the receiver/terminal side.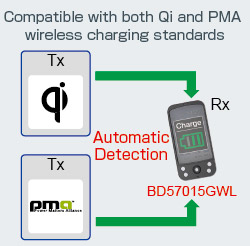 Related Information
■News
The World's First Qi-Certified Medium Power Transmitter Reference Design
■New Product Bulletin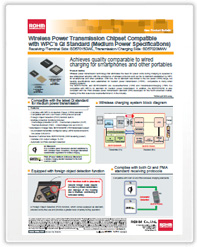 Wireless Power Transmission Chipset Compatible
with WPC's Qi Standard (Medium Power Specifications)

(324KB)
In addition to chipsets for wireless charging, ROHM leverages the latest proprietary technologies to expand it's broad product lineup and develop devices optimized to customer needs.