BSM300D12P2E001 1200V/300A full SiC power module
product information release

Product Overview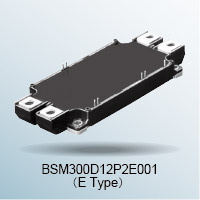 In addition to 120A and 180A full SiC power modules, ROHM now offers a 300A type (BSM300D12P2E001)that enables support for larger power applications such as high capacity power supplies industrial equipment.
Moreover, significantly reduced switching loss (compared with conventional Si IGBT modules) makes high-frequency operation possible, ensuring compatibility with smaller peripheral components and cooling systems.
Lineup
New 300A SiC power module added to the lineup
Part No.
Absolute Maximum Ratings (Ta=25°C)
RDS
(ON)
(mΩ)
Pack
age
Ther
mistor
Internal Circuit Diagram
VDS
(V)
ID
(A)
(Tc=
60°C)
Tj
(°C)
Tstg
(°C)
Visol
(V)
(AC
1min.)
BSM080D12P2C008
(2G. DMOS)
1200
80
-40 to
+175
-40 to
+125
2500
34
C
type
-
BSM120D12P2C005
(2G. DMOS)
120
-40 to
+150
20
BSM180D12P3C007
(3G.UMOS -Trench Gate)
180
-40 to
+175
10
BSM300D12P2E001
(2G. DMOS)
300
-40 to
+175
7.3
E
type
○
External Dimensions (Unit: mm)

| C type | E type |
| --- | --- |
| | |
■ Future developments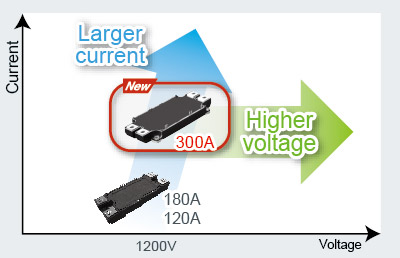 Our lineup has been expanded to include a new model that achieves higher rated current through the use of an SiC device that adopts a trench structure and a high voltage module.
Features1:High frequency operation achieved through reduced switching loss.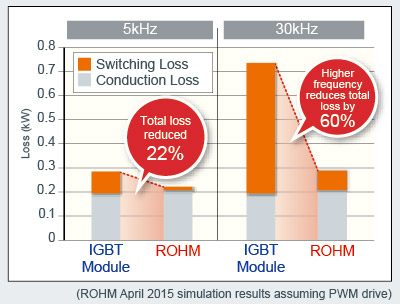 Switching loss is significantly reduced compared with similarly rated IGBT modules. As a result, simply replacing IGBT modules makes it possible to reduce the size of cooling countermeasures and support the use of smaller external components such as coils and capacitors by enabling higher frequency operation.
Features2:Safer design supports larger currents
Original design technology reduces inductance by half, enabling the development of 300A rated products
Integrated thermistor prevents excessive heat generation