ROHM to start shipment of a Dedicated System Power Management IC for the 14nm Intel® Atom™ processor for tablets
April 7, 2015
Kyoto, Japan and Santa Clara, Calif. – April 7, 2015 – ROHM Co., Ltd. (TSE: 6963) has announced the production release of a dedicated system power management integrated circuit (PMIC), the BD2613GW, to support the next generation, 14nm Intel® Atom™ processor for tablets. A highly integrated power management solution with industry leading power efficiency, ROHM's PMIC is targeted towards ultra-thin form factor tablets.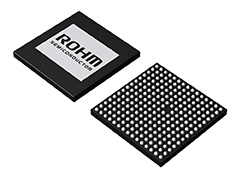 Takahiro Ota, Director of ROHM LSI Corporate Strategy Headquarters said "This BD2613GW is a successor PMIC to the BD2610GW which supports Intel's current processor for tablets, the Intel Atom processor Z3700 series. This new single-chip PMIC integrates all of the essential power FETs into same WLCSP package as its predecessor, the BD2610GW. It is best suited for Android-based and Windows-based tablets using Intel's 14nm-based SoC, while offering the best-in-class cost optimization."
"Power management is an important vector for our platform designed for tablets. Intel is happy to collaborate with ROHM to provide great power delivery performance for our next generation Intel Atom processor for tablets," said Tom Shewchuk, Intel's director of Tablet Component Enabling.
ROHM Co., Ltd. is an industry leader in system LSI, discrete components and module products utilizing the latest in semiconductor technology. ROHM's proprietary production system, which includes some of the most advanced automation technology, is a major factor in keeping it at the forefront of the electronic component manufacturing industry. As a vertically integrated company, ROHM is able to quickly and efficiently develop highly customized product in a cost effective manner for Consumer, Automotive, and Industrial sectors.
The ROHM Group is also taking steps to ensure stable product supply to customers worldwide – even during a disaster or unforeseen event – for example by continuing to further enhance production capacity to meet market needs, establishing a multi-site production system, optimizing inventory management (i.e. maintaining safety stock), and making production equipment and processes more disaster-proof.