Compact digital color sensor IC BH1745NUC product information release
Overview
The BH1745NUC I2C-compatible digital color sensor is designed to detect the color components (RGB) in light and convert them digitally. Superior spectral sensitivity, achieved through optimum infrared cutoff characteristics and original optical technology, makes it possible to calculate the color temperature and brightness with a high degree of accuracy - even through low-transmittance optical windows - contributing to greater design freedom.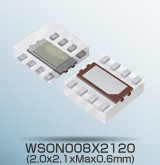 Key Characteristics
Block Diagram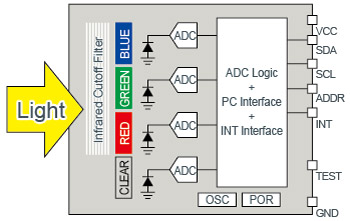 <Key Characteristics>
Supply Voltage Range:2.3 ~ 3.6V
Max. Sensitivity:0.005lx / step
Operating Current Consumption:130µA (Typ.)
Power Down Current Consumption:0.8µA (Typ.)
Operating Temperature Range:-40 ~ +85℃
Features:Proprietary optical filter technology ensures excellent spectral sensitivity
Leveraging original infrared removal characteristics and calculation method makes it possible to achieve removal characteristics that reduce the effects of infrared rays by over 10x compared with conventional products.
This enables compatibility with even dark (low transmittance) optical windows that prevents accurate detection when using conventional color sensors.
Applications

Related Information
■ NEWS
New Brightness (Color) Sensor Optimized for Smartphones
■ New Product Bullitin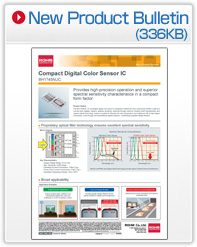 Compact Digital Color Sensor IC "BH1745NUC"

(336KB)
ROHM continues to carry out product development to expand its broad lineup and leverage the latest technologies to meet customer and market needs.