The Industry's First* Monolithic Supercap (EDLC) Cell Balancing IC
Promotes expansion of the supercap energy regeneration market for automotive and industrial applications
*ROHM November 2014 study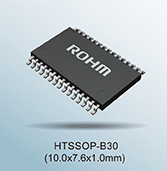 ROHM has recently announced the development of a cell balancing IC that contributes to increased miniaturization, greater stability, and longer life for supercaps, or EDLCs (Electric Double Layer Capacitors), which are driving the adoption of energy regeneration applications in industrial equipment, automotive start-stop systems, and voltage sag (instantaneous voltage drop) countermeasures.
The BD14000EFV-C integrates over 20 discrete components required for supercap cell balancing on a single chip, reducing mounting area by 38% over conventional solutions while eliminating component variations, making it easy to configure compact, high reliability supercap systems.
In addition to cell balancing functionality for up to 6 cells, multiple ICs can be connected in series to enable simultaneous control of even more cells. The cell balancing voltage can be set between 2.4V and 3.1V, ensuring support for a variety of supercaps . Flag output is also built-in, along with an overcurrent detection voltage function with adjustable detection voltage setting based on the cell balancing voltage. In addition, AEC-Q100 qualification ensures worry-free use in automotive and other environments requiring high reliability.
Compared to other storage devices, supercap offers faster charge/discharge performance, longer life, and greater safety while minimizing environmental impact, making it ideal for a variety of applications – including automotive and industrial systems. And every year higher voltages and greater capacitances are demanded for use under high power environments.
When connecting multiple supercaps in series to support higher voltages, the voltage applied to each supercap cell may vary, which can adversely affect the lifetime and shorten the amount of time they can be safely used. And up to now cell balancing operation has been achieved through discrete configurations, making it necessary to address a number of issues such as board space and design load in order to minimize fluctuations while maintaining reliable cell balancing operation.
In response ROHM, in cooperation with Nippon Chemi-Con Corp., an industry leader in the development of supercaps and aluminum electrolytic capacitors, has developed a compact, easy-to-mount supercap cell balancing IC that provides high performance operation and integrates multiple protection functions.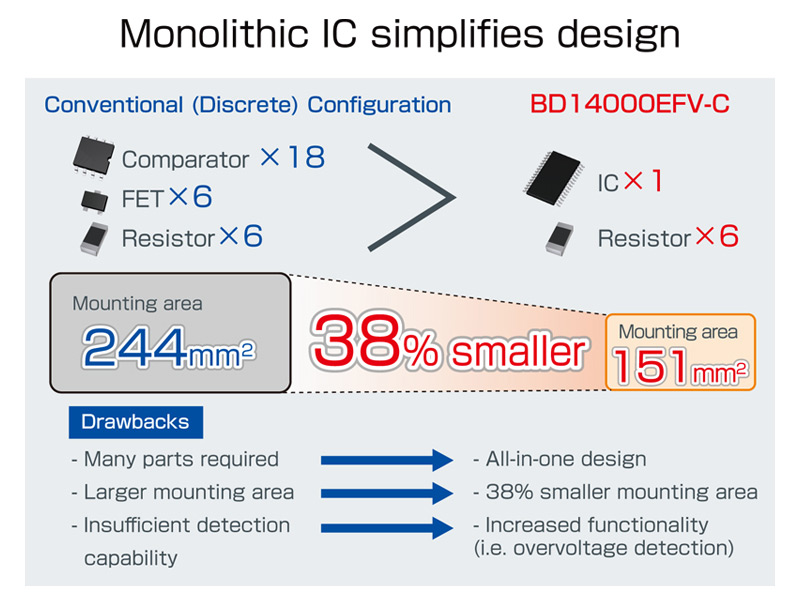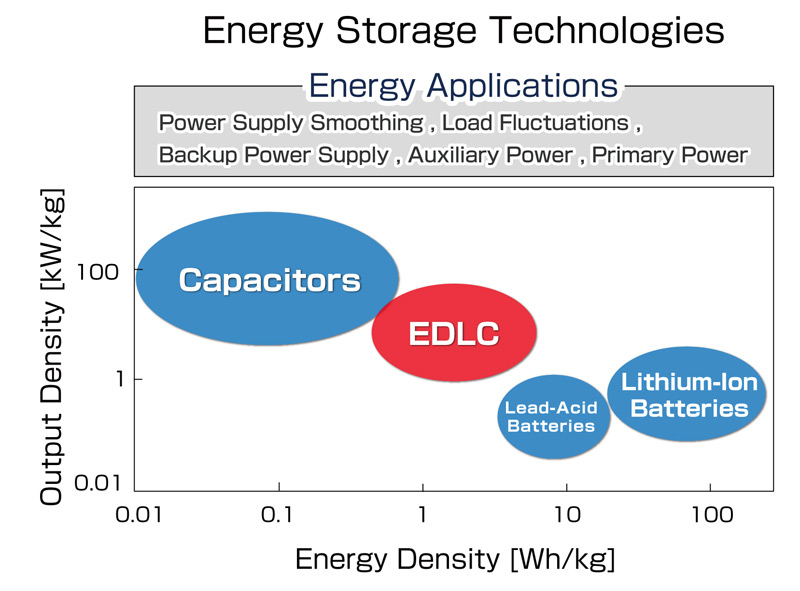 Pricing: $7.43 (2,000pcs, BD14000EFV-C); $122.00 (evaluation board, BD14000EFV-EVK-001)
Availability: Samples Now
Delivery: 14 weeks ARO
Key Features
1.All required supercap cell balancing functions integrated on a single chip reduces mounting area by 38%
Proprietary analog design technology cultivated over many years, combined with sample evaluations and specifications determined by Nippon Chemi-Con, have allowed ROHM to develop the industry's first IC that integrates supercap cell balancing functionality – which conventionally requires over 20 discrete components – on a single chip. This not only simplifies design, but reduces mounting area by 38%.
Detection is enabled for 4-6 cells, and the shunt resistor method is used to achieve simple cell balancing operation, making self-contained operation possible and reducing design load considerably. In addition, the cell balancing voltage can be adjusted (2.4-3.1V, 0.1V increments) to ensure compatibility with a wide range of supercap output voltages.
2.Supports higher voltage supercap applications by expanding the number of cells
The supercap market itself is trending towards higher voltages and capacitances, and the practice of connecting large-capacitance supercaps in series to generate higher voltages is increasing. In response, the BD14000EFV-C allows multiple ICs to be connected in series, making it possible to provide cell balancing functionality for high voltage supercap applications.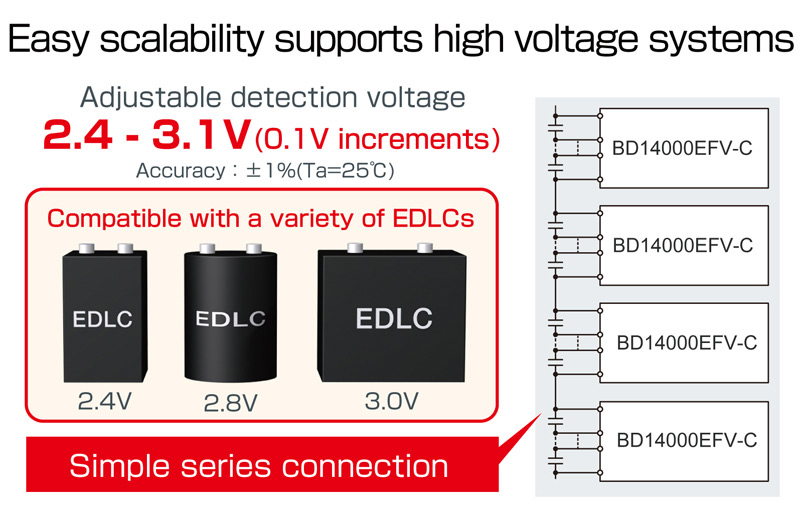 3.Two protection functions enable double-checking of cell conditions; automotive standard AEC-Q100 qualified
In addition to cell balancing operation, overcurrent detection and flag output functions are included that improve system reliability by detecting the degree of cell degradation. In addition, AEC-Q100 certification ensures that the IC meets special environmental requirements (i.e. automotive noise).
Applications
Energy regeneration: automotive, industrial equipment, construction machinery, and other systems that reutilize kinetic energy
Power supply stabilization/voltage sag countermeasures: emergency backup (i.e. UPS)
Startup power auxiliary: automotive start-stop systems, rapid OA equipment startup
Lead-acid battery replacement: no lead minimizes environmental impact; provides longer life
Terminology
・ Supercap, or EDLC (Electric Double Layer Capacitor)
Supercap is a type of storage device that, although features lower energy density (charge per unit area) than secondary batteries such as li-ion, provides greater output density (amount of power that can be handled per unit time). In addition, supercap is less susceptible to performance degradation due to charging/discharging (prolonging life), will not fail even due to external short circuits (improving safety), and contains no heavy metals (minimizing environmental impact).
Conventionally, small capacitance devices are typically used to backup and stabilize compact power supplies (i.e. portable devices), but in recent years larger capacitances (>300F) are being adopted for fast charge/discharge operation in higher power applications such as automotive systems, auxiliary power in industrial equipment, energy regeneration, and the like.
For more information click here