Compact pressure sensor IC BM1383GLV product information release

Product Overview
The BM1383GLV piezoresistive pressure sensor makes it easy to obtain high accuracy pressure information by performing temperature correction based on proprietary algorithms via an internal IC. Detects differences in height (altitude) through pressure changes in wearable devices, activity monitors, and advanced detection for indoor navigation in smartphones and tablets.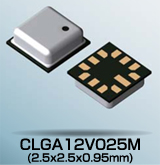 Key Specifications
[ Key Specifications ]
Pressure Range:300hPa to 1100hPa
Absolute Pressure Accuracy:±1hPa (Typ.)
Relative Pressure Accuracy:±0.12hPa (Typ.)
Average Current (1Hz Data Rate):5µA (Typ.)
Operating Temperature Range:-40 to +85ºC
Supply Voltage Range:1.71 to 3.6V
[ Block Diagram ]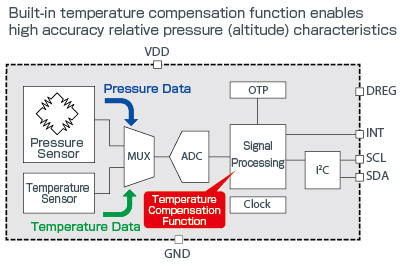 Features 1:Built-in temperature compensation function enables stable measurement
Conventional pressure sensors exhibit problems maintaining high detection accuracy at low temperatures. In response, ROHM integrates a temperature compensation function utilizing original compensation algorithms that covers both high and low temperatures, making high accuracy pressure detection possible even at low temperatures. In addition, this eliminates the need to incorporate temperature compensation within the MCU itself, reducing design load considerably.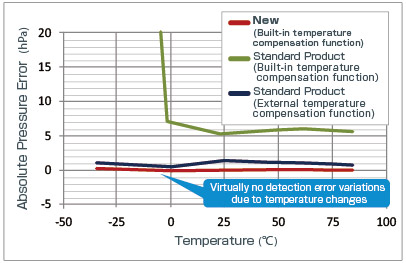 Features 2:Achieves class-leading relative altitude accuracy: ±20cm
High accuracy detection MEMS and precision low power consumption AD converter provides best-in-class relative altitude accuracy: ±20cm (relative pressure accuracy ±0.024hPa).
Features 3:Compact package
Leveraging development expertise cultivated over many years makes it possible to reduce the size of both the sensing and calculation blocks, resulting in the smallest pressure sensor with built-in temperature compensation function on the market.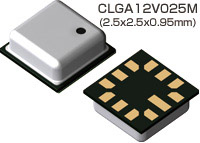 Applications
Advanced detection for indoor navigation
(i.e. in smartphones and tablets)
High/low (height) detection in wearable devices,
activity meters, and the like
Related Information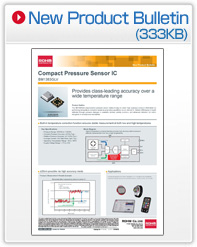 Compact pressure sensor IC "BM1383GLV"
(333KB)
ROHM will continue to meet market needs with optimized products and solutions as well as expand its already comprehensive product lines utilizing the latest technologies.