ROHM Power Type Metal Resistors: PSR400/500 Series

Overview
The increasing computerization in the automotive and industrial markets, along with the rapidly expanding current control application sector and the trend towards high current circuit designs have increased demand for products with higher rated power.
The PSR Series is offered in the ultra-low resistance range from 0.2mΩ to 3mΩ and provides high rated power (4W, 5W), making it ideal for current detection in large-current applications.
Key Feature 1: High Rated Power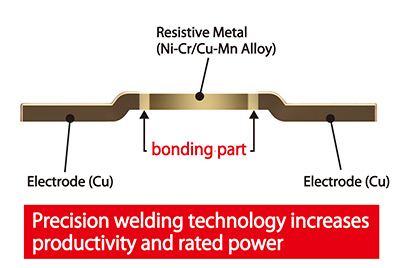 To support high power requirements and ensure high measurement accuracy even in the ultra-low-ohmic region (0.2mΩ), technology for bonding copper electrodes without variations is required. ROHM employed original precision welding technology to join the resistive metal to thick copper electrodes, achieving high heat capacity with excellent thermal dissipation characteristics. This increases power-handling capability (5W class) while improving productivity.
Features2:Superior temperature coefficient of resistance, even in the ultra-low-ohmic region
Generally, as resistance value decreases the temperature coefficient of resistance increases. In response, ROHM utilized a high-performance alloy material for the resistive metal, ensuring superior temperature coefficient of resistance even at ultra-low resistances.
Application Circuit Examples
Low Ohmic Resistor Development Roadmap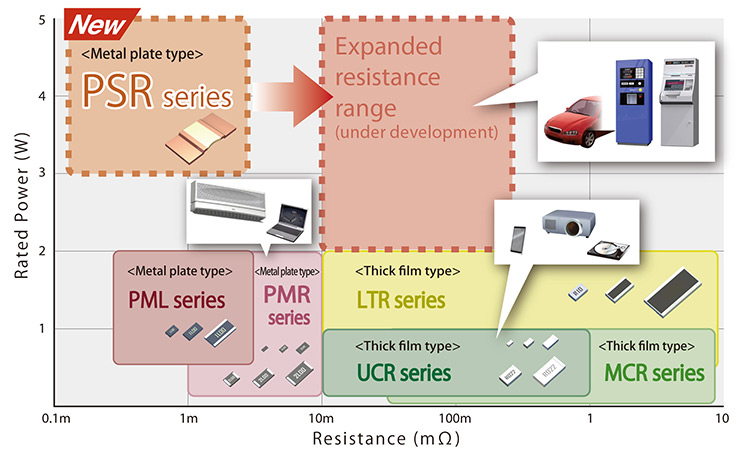 ■PSR Series Lineup
Part No.
Size
mm (inch)
Rated Power
(W) 

※1

Resistance Tolerance
Resistance Range
(mΩ)
emperature Coefficient of Resistance(TCR)
(ppm/℃) 

※2

Operating Temp. Range
(℃)
NEW  PSR400
10 × 5.2
(3921)
4
J (±5%)
G (±2%)
F (±1%)
0.3, 0.5
±175
-55 to +170
1.0, 2.0, 3.0
±75
NEW  PSR500
15 × 7.75
(5931)
5
J (±5%)
G (±2%)
F (±1%)
0.2
±225
0.3, 0.4, 0.5
±150
1.0, 2.0
±75
※1 at +70℃
※2 +20℃~+125℃
Related Information
■NEWS
High Power Ultra-Low-Ohmic Shunt Resistors
ROHM will continue to utilize the latest proprietary technologies to develop products and solutions that meet customer and market needs.