Input/Output Full Swing OpAmps for Motion Sensors BD5291 Series

Overview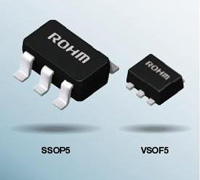 These opamps feature a Common-Mode Rejection Ratio (CMRR) of 70dB (min), enabling high-accuracy amplification of ultra-small signals. This makes them ideal for sensor amp applications for acceleration (shock), angular velocity, pressure, and more. In addition, unlike conventional input/output full-swing opamps that can operate only as low as 1.8V, the BD5291 series supports operation from 1.7V, providing a greater margin against supply voltage fluctuations in 1.8V systems.
Applications: Sensor amps for motion sensing

Ideal for sensor amp applications for motion sensing (i.e. acceleration,angular velocity, and pressure in portable gaming systems, smartphones, and tablet PCs. Also suitable for general use, such as microphone amps and active filters.
Features1:Easier to use with low-voltage operation and input/output full-swing mode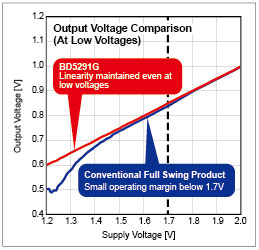 Enables input/output full-swing operation at a supply voltage of 1.7V. This makes it possible to maintain a wide dynamic range, even at low voltages. Also, sufficient operating margin is ensured at 1.8V, contributing to lower application voltages.
Features2:High Accuracy Signal Amplification
The offset voltage change point at the differential input stage does not exist, increasing the minimum Common-Mode Rejection Ratio (CMRR) from the conventional 45dB to 70dB. This minimizes errors due to common-mode signals that appear at the output, ensuring high-accuracy signal amplification.
Characteristics:Product Comparison
Part No.
Supply Voltage
Range VDD [V]
Input/Output
Range [V]
CMRR (Min) [dB]
Input Offset Voltage
(Max) [mV]
Package
(mm)

BD5291G
1.7 ~ 5.5
0 ~ VDD
70
±2.5
SSOP5
2.9 x 2.8 x 1.25
☆ BD5291FVE
VSOF5
1.6 x 1.6 x 0.6
Conventional
1.8 ~ 5.5
0 ~ VDD
45
±9
SSOP5
2.9 x 2.8 x 1.25
☆ : Under development
We will continue to expand the series with products that enable input/output full-swing operation at even lower voltages.
Related Information
ROHM will continue to take advantage of the latest proprietary technologies to develop next-generation products optimized to user needs.