4ch PWM-Dimming LED Driver BD9428
Overview
The BD9428 is designed to save power using high efficiency technology in LED backlighting applications such as LCD TVs and monitors.
A 4ch high voltage (80V max.) high current (250mA/ch) LED driver is included, providing greater versatility.
Highlight 1: High voltage/current capability supports a wide range of panel sizes
■Key Features
Integrated 4ch (250mA/ch) 80V LED driver‥‥‥①
Built-in noise reduction circuit‥‥‥②
Internal soft start function reduces inrush current‥‥‥③
10V swing output can drive enternal MOSFET for DC/DC‥‥‥④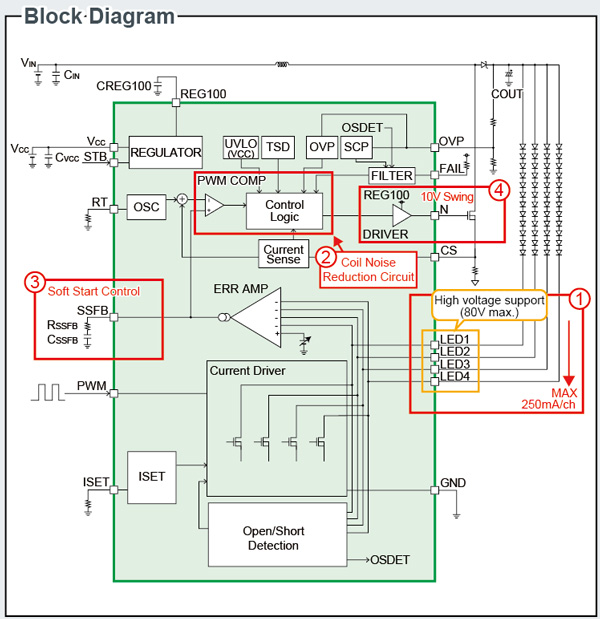 Highlight 2: High efficiency operation
ROHM's patented design optimizes the supply voltage from the driver to the LEDs, reducing the power consumption of the entire LED backlighting system.
Applications
| | |
| --- | --- |
| ■ LCD TVs and monitors/td> | |
Related Information
ROHM cultivates cutting-edge proprietary technologies to develop products and solutions optimized to market needs.