ROHM Semiconductor and Avnet Internix collaborate on a power supply module board optimized for Xilinx 7 series FPGAs and Zynq™-7000 all programmable SoCs
A high-speed, high-performance and high-efficiency power module that reduces power consumption for industrial equipment applications
TOKYO – July 9, 2013 – Avnet Internix, a subsidiary of Avnet's global Electronics Marketing group (Avnet EM) and ROHM Semiconductor (ROHM), a Japanese IC manufacturer have collaborated to jointly design and develop a power supply module board optimized for Xilinx 7 series FPGAs and Zynq™-7000 all programmable SoC's evaluation kits. Avnet EM is a major electronics components and embedded technology solutions distributor also providing associated design and supply chain services. ROHM is a leading Japanese analog IC and power module semiconductor designer and manufacturer.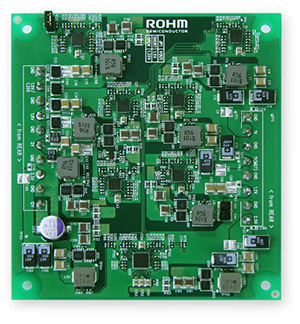 ROHM is the first Japanese electronics manufacturer to join forces with Avnet's global team of design engineers to develop a high quality and high reliability power supply module solution that can live up to the Japanese market's requirements and can also be supported globally by an established sales support team. Avnet Internix will introduce ROHM's new power supply module board commercially for the Avnet-designed Mini-Module Plus Development System within this month, July 2013.
Xilinx is the world's leading provider of All Programmable FPGAs, SoCs and 3D ICs. FPGAs are capable of being re-configured after manufacturing by field application engineers (FAEs) and designers via circuitry rewriting languages like HDL. Xilinx and Avnet EM have been collaborating for over 25 years on the design and manufacturing of a broad range of evaluation boards, kits and reference designs featuring core Xilinx chips. Avnet EM product specialists offer sales and technical support services for all these boards and kits worldwide. Avnet Internix has been an active technology marketing, distribution and support services company in the Japanese market since 2005.
ROHM's power module solution utilizes the BD95601MUV/BD95602MUV power supply ICs, with H3 Reg™ technology, ensuring outstanding high-speed responses to meet Xilinx's 7 series FPGAs power tolerance and sequencing guidelines for startup and precise power supply voltage regulations, including eight different power supply voltages from the 12 V input. It not only has high-speed transient response capabilities but it performs at 95% high efficiency, and can maintain high efficiency even in light load condition with SLLM/QLLM pulse skip mode. To see the full technical details of this power module including high-efficiency features and low-load (pulse skipping) mode, see ROHM power module page on Avnet's design resource center.
Kenji Otani, director of ROHM's LSI Product Development System said, "ROHM has considerable expertise in analog circuit technologies. In addition to an extensive range of high-efficiency, high-performance power supply ICs, it offers a comprehensive range of high-quality peripheral products, including transistors, diodes, and resistors. It also boasts a comprehensive quality support system both in Japan and overseas, allowing users to adopt power supply modules with a sense of security. ROHM has increasingly focused on the industrial equipment sector in recent years. Its entry into the FPGA power supply market in partnership with Xilinx and Avnet will expand the range of optimal solutions offered in this sector."
Hiroyuki Mukaiyama, director of product marketing at Avnet Internix said, "Avnet works with numerous suppliers to provide evaluation boards offering a wide range of functions at an attractive price point. We are delighted to have initialed our first collaboration with ROHM owing to their extensive experience with analog circuit technologies, including power supply ICs, and their extensive product support system. We're excited to introduce the first Japanese developed power solution for the Xilinx core-chip evaluation kit already on the market. Leveraging our relationship with Xilinx and linking it to our partnership with ROHM will enable us to offer more high-quality design power solutions for more evaluation boards and kits in the future, enabling easier and speedier design cycles, thereby accelerating our mutual customers' success."
ROHM and Avnet plan to continue strengthening ties to develop, manufacture, and market a wide range of evaluation kits and power supply module boards to accelerate client product development.
About Xilinx
Xilinx is the world's leading provider of All Programmable FPGAs, SoCs and 3D ICs. These industry-leading devices are coupled with a next-generation design environment and IP to serve a broad range of customer needs, from programmable logic to programmable systems integration. For more information, visit www.xilinx.com.
About ROHM Co., Ltd.
Founded in 1958, ROHM (CEO Satoshi Sawamura) offers system solutions for a broad range of markets, including consumer devices, mobile phones and telecommunications, and automotive equipment. ROHM provides LSI and discrete semiconductors characterized by outstanding quality and reliability via its global development and sales network. Headquartered in Kyoto, the company had consolidated net sales for March 2013 of 292.4 billion yen and currently employs 20,203. See www.rohm.com for more information.
About the Avnet Group in Japan
The Avnet Group in Japan is comprised of two separate selling business units, Avnet Internix K.K. and Unidux, Inc., which are both supported by a common back-office support services company, Avnet EM Holdings (Japan) K. K., a division of Avnet's global Electronics Marketing group. Both Avnet Internix and Unidux serve electronic original equipment manufacturers (EOEMs) and electronic manufacturing services (EMS) providers, and are focused on distributing electronic components from their manufacturers' core technologies for their customers' primary applications and providing associated design-chain and supply-chain services. The Avnet Group in Japan also has an overseas business unit called Avnet Unidux operating in five countries and nine locations in China and SE Asia. The Avnet Unidux companies are supported by a back-office corporate support group called Avnet EM Japan (Asia) Ltd. located in Singapore. The group's website is located at www.em.avnet.co.jp.
About Avnet Electronics Marketing
Avnet Electronics Marketing is an operating group of Phoenix-based Avnet, Inc. that serves electronic original equipment manufacturers (EOEMs) and electronic manufacturing services (EMS) providers in more than 70 countries, distributing electronic components from leading manufacturers and providing associated design-chain and supply-chain services. For the fiscal year ended June 30, 2012, the Avnet Electronics Marketing operating group had global sales of $14.9 billion of Avnet, Inc.'s total revenues of $25.7 billion. The group's website is located at www.em.avnet.com.