Compact Schottky Barrier Diodes Featuring the Industry's Lowest VF
High current handling capability in a small form factor ideal for smartphones and other portable devices
2012-11-14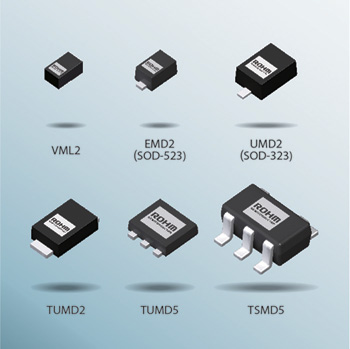 ROHM has recently announced the development of the RBE series of compact Schottky barrier diodes featuring the lowest VF in the industry, making it ideal for portable applications requiring greater space savings, such as smartphones. Available in a range of packages, including the new ultra-compact VML2 measuring just 1.0 x 0.6mm optimized for high-density applications.
The growing trend towards greater functionality and sophistication in smartphones and other mobile devices while reducing size and maintaining or even prolonging battery life has led to a greater demand for ultra-compact components that minimize power consumption, in particular Schottky barrier diodes used in power supplies, where low VF and high average rectified current are required. However, up to now in order to reduce VF and increase current handling capability it has been necessary to increase chip size, making miniaturization difficult.
In response, ROHM significantly improved current efficiency by redesigning the diode element, decreasing VF by 32% over conventional products. This results in lower heat generation and higher rated current, enabling smaller packages to be used, which can reduce mounting area by up to 80%.
Key Feature
1. High current in a compact package
Industry-low VF ensures high current handling capability in a compact form factor.
Package (Size)
RBE Series
Conventional
VML2 (1006)
0.2A
EMD2 (1608)
0.2A
UMD2 (2512)
0.5A
TUMD2 (2513)
1.5A
2. Reduced mounting area by up to 80%
Higher rated current makes it possible to use smaller packages, reducing mounting area considerably.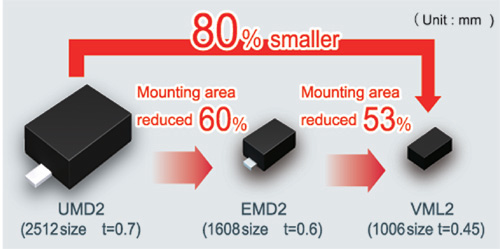 Application Diagram: Smartphone Circuit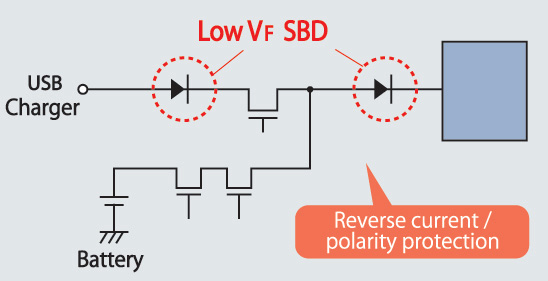 Specifications
(Ta=25°C)
Package
Part No.
Absolute Maximum Ratings
Electrical Characteristics
Vr (V)
Io (A)
Vf (V)
Ir (mA)
VML2
RBE05AS20A
20
0.5
0.53
0.15
EMD2
RBE05SM20A
20
0.5
0.53
0.15
UMD2
RBE05VM20A
20
0.5
0.43
0.2
RBE07V20A
20
0.7
0.43
0.2
TUMD5
RBE1KA20A
20
1*
0.43
0.2
TUMD2
RBE1VA20A
20
1
0.53
0.2
RBE2VA20A
20
2
0.46
0.7
TSMD5
RBE2EA20A
20
2*
0.39
0.7
*1/2 lo per element
VF ( Forward Voltage)
The amount of voltage when current is flowing through the diode in the forward direction. The smaller the value the lower the power consumption.
Average rectified current(Io)
The maximum rectified current that can flow in the forward direction under the specified conditions.