LED drivers for tablet LCD backlighting

Overview
Tablet PCs, which are becoming increasingly mainstream, possess several key requirements, including the need for lighter weight, longer operating time, decreased thickness, and improved viewability. In response, ROHM offers a broad lineup of LED driver ICs that meets the needs of tablet PCs and similar devices.
Key Features
White LED drive (72 lamps max.) enabled from 2.7V
High efficiency PWM dimming enabled from 1% duty.
High efficiency thermal dissipation ensured with low EMI
Key Feature 1 : Operation enabled from a single li-ion battery
Operation is enabled from a supply voltage of 2.7V, enabling driving using a single li-ion battery, contributing to increased set miniaturization. A total of 72 lamps (12 units/line × 6 lines) can be powered, with a maximum current of 25mA per line (set via external resistor). In addition, automatic PWM-based backlight dimming is possible when used with ROHM's BD6092GU controller IC. The result is optimized screen visibility with minimal power consumption, increasing operating time for battery-driven applications.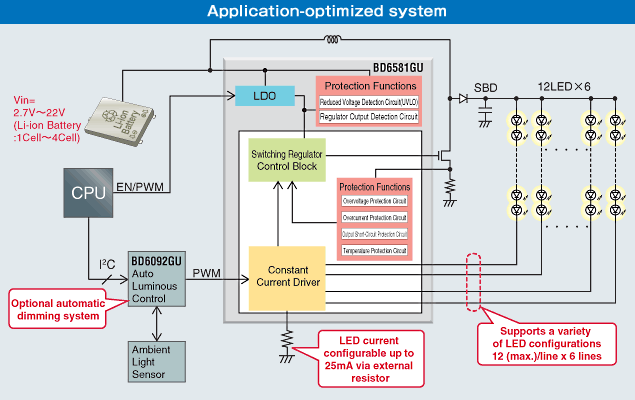 Key Feature 2 : PWM dimming possible from 1% duty
PWM dimming from 1-100% duty is possible, enabling LCD backlight brightness adjustments over a wide range. Conventional DC dimming methods perform dimming by adjusting the current value. However, this results in significant differences in luminous intensity and brightness fluctuations. In contrast, ROHM utilizes PWM dimming that minimizes fluctuations at low brightness. In addition, constant current supply is ensured for each line, eliminating brightness variations between lines due to differences in VF.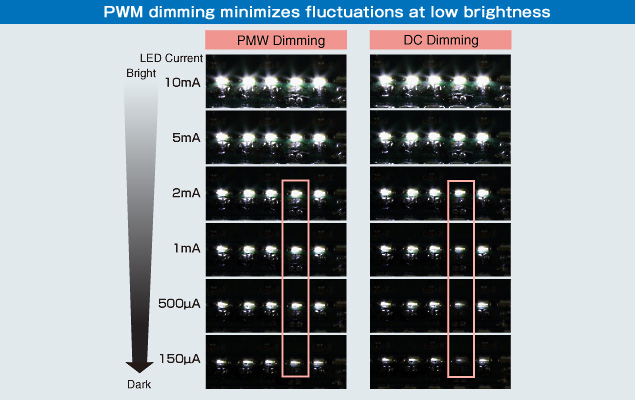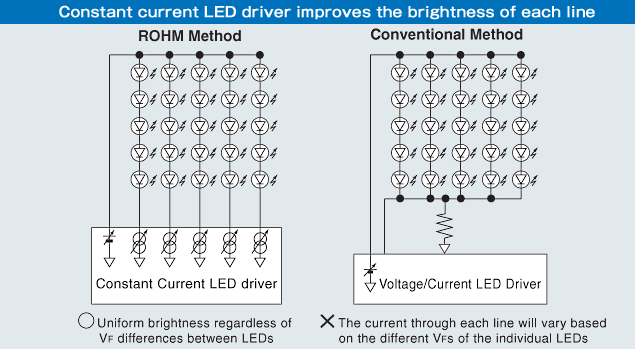 Key Feature 3 : Wide duty range provided for high efficiency operation
PWM dimming is utilized featuring a wide duty range, from 1-100%, resulting in high efficiency operation. For example, BD6581GU provides a power efficiency of 90% through 1-100% duty.
This is in contrast with conventional systems where the LED backlight power consumption exceeds LCD power consumption during low duty, making lower power consumption even at low brightness difficult to achieve.
ROHM LED driver ICs are equipped with a precision power supply control system synchronized with the PWM signal, ensuring high efficiency even during low brightness.
Key Feature 4 : Easy EMI protection
Only one resistor is required for EMI protection even in LED backlight systems with the largest step-up voltage circuits, preventing unwanted interference to the wireless communication systems in tablet applications.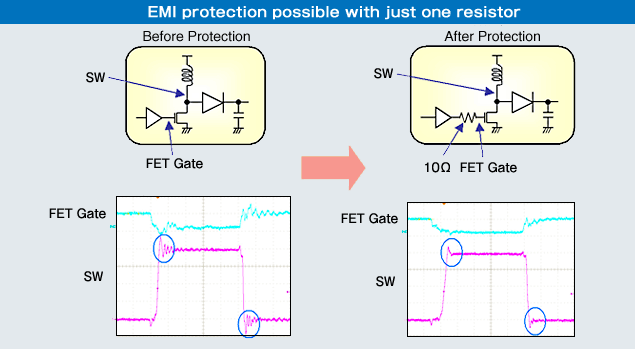 Key Feature 5 : No countermeasures against output capacitor noise required
| | |
| --- | --- |
| The system automatically reduces LED current ramp-up during PWM control, minimizing voltage changes to the output capacitor. | |
Lineup
Part No.

Power Supply
Voltage
(V)

No. of LEDs

Output
Voltage
(V)
Current
(mA)
Switching
Frequency
(MHz)
Primary
Brightness
Control Method
Package
(mm)
RoHS
compliant

BD6586MUV

2.7 to 5.5

24.0
max.
6 units/line
× 4 lines
24.0
max.
25
(Per line)

1.0

Control
analog dimming ISET
terminal resistance
switching via PWM signal
at PWM terminal

VQFN024V4040

Yes

BD6581GU

2.7 to 22

72 max.
12 units/line
× 6 lines
(VFlimits exist)
43.0
max.
25
(Per line)

1.0

Control
analog dimming ISET
terminal resistance
switching via PWM signal
at PWMPOW PWMDRV terminals
VCSP85H2
(2.6×2.6),
H=1.0Max.

Yes

BD6583MUV-A

2.7 to 22

72max.
12 units/line
× 6 lines
(VFlimits exist)
43.0
max.
25
(Per line)

1.0

Control
analog dimming ISET
terminal resistance
switching via PWM signal
at PWMPOW
PWMDRV terminals

VQFN024V4040

Yes

BD6592MUV

2.7 to 22

72max.
12 units/line
× 6 lines
(VFlimits exist)
43.0
max.
40
(Per line)

1.0

Control
analog dimming ISET
terminal resistance
switching via PWM signal
at PWMPOW
PWMDRV terminals

VQFN024V4040

Yes