esg_social
Home

>
Social Initiatives
Developing Human Resources Through Diversity
The ROHM Group states in its corporate objectives and policies that it will 'search extensively for capable human resources and cultivate them as cornerstones for building long-term prosperity' and seeks to utilize and nurture a diverse workforce without being bound by gender, nationality, religion, and other factors.We will actively promote diversity and develop our human resources in order to contribute to continued advancement and become a global leader.
Award from the Philippine Labor Bureau
Award from PMAP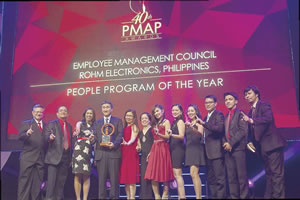 At our company in the Philippines, we are making efforts to improve our labor and management-related initiatives by offering a revolutionary cutting-edge program centered on the concepts of diversity included in our corporate goals and policies.In 2016, these activities were recognized and awarded by the People Management Association of the Philippines (PMAP).
ROHM Electronics Philippines, Inc.
Human Resources & Organizational Development Division
Deputy Division Manager / Compliance Council Chairman
Jose N. Gregorio
Developing Projects Based on a Firm Understanding of Customer Needs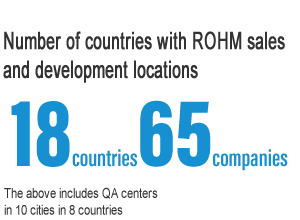 At each of our business locations throughout the world, the ROHM Group has established a design center that thoroughly understands the needs of our customers in the areas of product development and design, and works quickly to provide products that meet these needs.We are also pursuing true globalization in order to create new products that can solve environmental and other issues, in line with the needs of our customers.
Handling customer needs by closely working with the local community
Employees involved in product development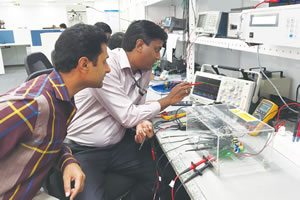 At the India Design Center, we have established a local development framework and work alongside customers to offer support in a timely manner, and strive to respond to the requests of our customers in regards to quality and the environment.
ROHM Semiconductor India Pvt.Ltd.
India Design Center-Head
Britto Edward Victor