esg_governance
Home

>
Governance Initiatives
CSR Promotion Committees Hosted at Group Companies
ROHM Group CSR Promotional Organization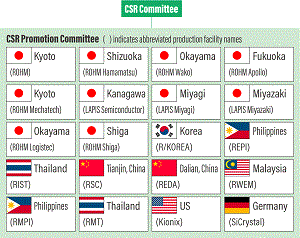 The ROHM Group holds monthly meetings of its CSR Promotion Committee, chaired primarily by the president of each production base.We carry out dialogues with our stakeholders, discuss CSR rooted in the local community, and engage in activities that involve the entire company in accordance with our yearly activity plan.
CSR promotion committee attended by company officers
CSR Promotion Committee at our German company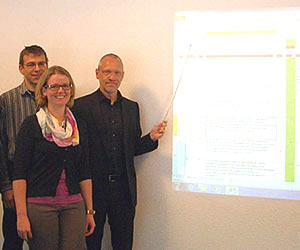 Our company in Germany holds monthly meetings of its CSR Promotion Committee, with officers serving as members.The committee is working on improving and refining initiatives at the plant in line with the ROHM Group's CSR standards.
SiCrystal AG
Admin Headquarters
Board of Director / Group General Manager
Roland Reichstein
Promoting Social Responsibility within the Value Chain
Photograph taken at the completion of a CSR Procurement Audit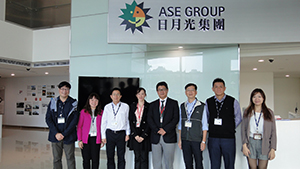 The ROHM Group rolls out many different activities to be of assistance in CSR and CSR procurement for our business partners. This builds trust and mutual prosperity between ourselves and our clients, with the aim of creating a solid supply chain. Every year, we request self-assessments from each of our business partners through a "CSR Self-Assessment," and we also implement a "CSR Procurement Audit," in which we visit our major business partners.
For the CSR Procurement Audit, we visit the ROHM headquarters and group companies' main customers. We visited 15 companies in FY 2014, 28 companies in FY 2015, and 27 companies in FY 2016 to promote understanding of CSR procurement activities and exchanged ideas and opinions on improving our goal of building a relationship of mutual trust. We plan to visit 24 companies in FY 2017 to further our involvement in this activity.
Before the CSR Procurement Audit, we have been asking our customers to complete a CSR activity self-diagnostic tool called a CSR Self-Assessment every year. In FY 2016, we requested assessments from 1,676 customers based both domestically and overseas and received back responses from them. In FY 2016, in addition to the CSR Procurement Audit, we visited some of our small butimportant customers to discuss the content of their responses to the CSR Self-Assessment and exchanged ideas and opinions.
Holding CSR briefing sessions for business partners
CSR briefing for business partners
In October 2016, we held a briefing at our Malaysian production facility for all of our business partners regarding EICC (CSR standards for the electronics industry) and the ROHM Group's CSR/CSV initiatives.We will continue with these efforts and strive to further deepen relationships with our business partners.
ROHM-Wako Electronics (Malaysia)
Sdn. Bhd
Administrative Division
Deputy General Manager
Wong Pui Li