esg_environmenta
Home

>
Environmental Initiatives
Reducing CO2and Other Greenhouse Gas Emissions Throughout the Entire Value Chain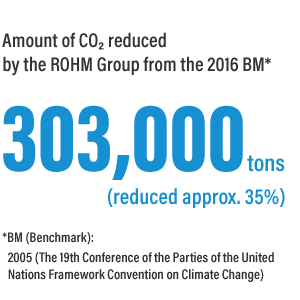 COP21(※) was held in 2015. In response to measures required to combat global warming and climate change on a global scale, the ROHM Group is increasing its transparency of equipment power usage and office energy consumption to reduce excess energy use while actively striving to cut down emissions of CO2 and of PFC gases that have an even more severe greenhouse effect.
To reduce the level of CO2 emissions from all business activities, ROHM expanded the range of its estimates to cover Scopes 1 and 2 as well as Scope 3, calculating CO2 emissions for the entire value chain.

(※) COP21・・・21st Conference of Parties of United Nations (UN) Conventions for the UN Framework Convention on Climate Change. At the conference held in Paris, France in November 2015, an international framework for measures to combat global warming from 2020 was adopted.
Energy conservation activities at the Thailand office
Office Energy Reduction
campaign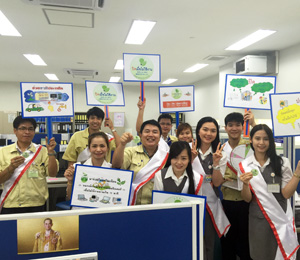 Our Thailand production facility is working on environmental a ctivities, including minimizing environmental impact and energy consumption. In addition to production activities at the plant, we are actively engaged in energy-saving activities in the office by implementing company-wide campaigns, such as reminding employees to turn off equipment when not in use.
ROHM Integrated Systems (Thailand) Co., Ltd.
Facility Management Div. Utility Control Dept.,
Assistant Section Manager / Energy Saving Sub-committee Leader
TheerasitJuntron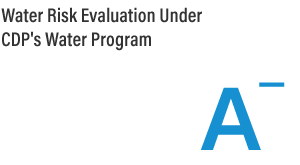 As a leading semiconductor manufacturer, the ROHM Group is involved in reducing the burden on our water environment through water conservation and recycling. And we have created a BCM (Business Continuity Management) system that not only covers water-related risks, but a wide range of other risks as well, including natural disasters such as flo ods and infrastructure-related issues. We also implement social contribution activities rooted in various regions from the viewpoint of biodiversity.
Contributing to the growth of horseshoe crabs - a protected species
Save the horseshoe crabs!
Refresh Seto Inland Sea Clean Campaign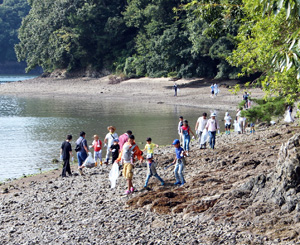 At the Okayama location our employees participate in the 'Refresh Seto Inland Sea Cleanup Campaign to Save Horseshoe Crabs', held each year in Kasaoka city. We hope that our participation can contribute even in some small way to maintain the tidelands where horseshoe crabs grow.
ROHM Wako Co., Ltd.
Chief, Environmental Management Group, Administration Division 1, Administration Department
Shinji Yasuhara