Home

>
Stakeholder Participation
Valuing dialogue with stakeholders
To ensure company prosperity, it is necessary to incorporate the ideas of the various in the company's management plan.
The ROHM Group receives many suggestions and requests from customers during regular sales activities and CSR audits. Requests and opinions are also received directly from business partners during factory audits and other occasions. In addition employee satisfactions survey was conducted twice a year, meetings between management executives and representative employees are held periodically to discuss topics such as workplace environment and employee treatment, and dialogues are frequently held between the ROHM President and employees. ROHM takes advantage of these opportunities to gather opinions and suggestions from employees on various topics.
IR meetings are also held in Japan and overseas in an attempt to obtain direct feedback from as many shareholders and investors as possible. Collaborative research with educational institutions in Japan and abroad and social contribution activities provide other venues for deepening exchanges with people in countries across the globe.
The ROHM Group values these opportunities for dialogue with stakeholders, and firmly utilizes the opinions and requests received in its business and CSR activities.
Main opportunities for dialogue with stakeholders
| | |
| --- | --- |
| Customers | CSR audits, regular sales activities |
| Business partners | Supplier meeting, Quality audits, CSR procurement audits, Environment audits |
| Employees | Dialogues between the ROHM President and employees, labor-management dialogues, Employee satisfaction survey |
| Shareholders and investors | Shareholders' meetings, IR meetings in Japan and overseas |
| Society and local communities | Collaborative research with educational institutions, social contribution activities |
Dialogue with Customers
Public (Waigayas※1) meeting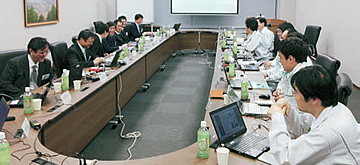 Dialogue with Shareholders and Investors
Briefings and dialog with investors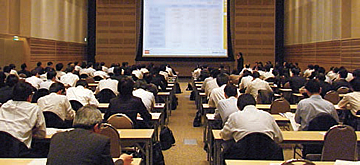 Dialogue with Employees
World Cafe※2
Dialogue with Business Partners
Product development and technological trend briefings
Dialogue with Local Societies and Regions
Dialog and plant tours with the local community
※1 Waigaya Meetings:

Lively meetings that allow the free exchange of ideas.

※2 World Cafe:

Meetings held where everyone can participate in order to collect many ideas in a short period of time
Incorporating employee feedback into management plans
Among ROHM's first resistors
A major advantage of ROHM is the free, uninhibited culture based on a capitalist spirit that has been passed down through the years since the company was founded. Many opportunities for dialogue are provided between ROHM's president and the employees, and each employee is encouraged to exercise free thinking in shaping the company's future. ROHM fosters a culture of unrestrained communication.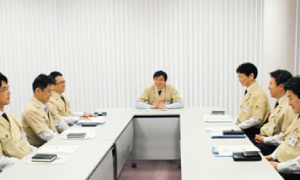 Active dialogues between ROHM's President and employees
ROHM places great importance on dialogue with employees, because employees are also important stakeholders, and increasing employee satisfaction leads to greater satisfaction for other stakeholders.
Based on this concept, ROHM has continuously held dialogues between the company president and its employees. These opportunities allow the president to convey the state of the company and employees the chance to bring up various workplace issues. And together, they can brainstorm ideas to resolve those issues.
Due to the diversity of topics, such as 'improvements in workplace environment' and 'ideas to increase customer satisfaction,' heated discussions have run longer than 5 hours.
Reforming the development and sales structure based on employee feedback
Feedback from employees actually comes into play when improving the company's structural organization and operations. As an example, one employee's idea that 'ROHM needs to strengthen its system for responding to the varied needs of its customers" initiated the establishment of Product Strategy Departments for each market in the New Product Development Division. Another employee's opinion, that 'customers carrying out business operations in multiple regions throughout the world want high quality services that are consistent across the various regions,' was the basis for reorganizing the sales structure from region-specific to customer-specific.
ROHM creates numerous opportunities for dialogue in order to foster uninhabited discussions that actively incorporate employee feedback into its management plan.