csr-management
Home

>
CSR Activity Highlights
FY 2013 Initiative Highlights
The ROHM Group pursues global CSR management based on ISO26000.
In addition to strengthening the CSR promotion system, ROHM is using ISO26000 as a guide for extracting priority issues across the entire value chain and establishing initiative themes, plans and targets.
Strengthening CSR promotion activities
The ROHM Group's 3-year CSR reform plan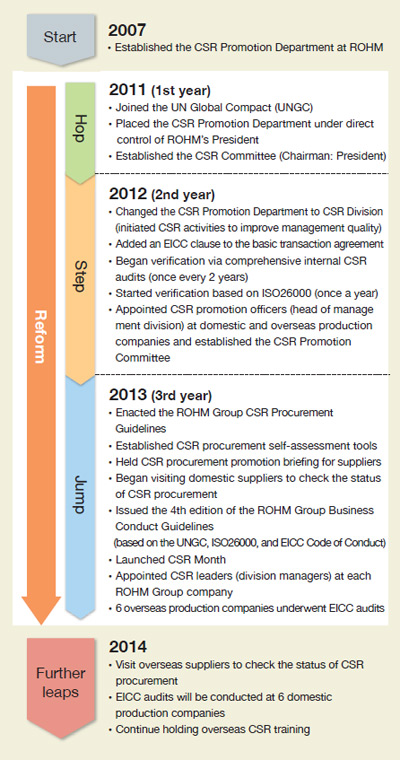 The ROHM Group in 2007 established a ROHM CSR Promotions Division (currently the CSR Division) and soon began social contribution and other activities.
After joining the UN Global Compact in 2011 the ROHM Group's CSR was repositioned towards activities that improve management quality. A three-year CSR reform plan was established, which is being executed on an ongoing basis.
Going forward, ROHM will raise the level of CSR even further throughout the entire value chain, for example by carrying out CSR activities at all entities in the supply chain, including domestic and overseas suppliers, and by conducting EICC audits at all production companies.
CSR Training
As expectations for CSR quickly grow among stakeholders, ROHM is globally expanding its CSR training with the goal of educating and training ROHM Group employees.
Over 300 employees a year participate in level-based CSR training and other types of educational activities at ROHM.
In addition, 253 domestic employees along with over 200 overseas employees participated in ROHM Group CSR training for sales staff in FY 2013, where they were exposed to such topics as ROHM Group CSR activities, CSR audits from customers, and conflict minerals.
In particular, through training sessions held in China (Shanghai and Shenzhen), where the world's electronic device and parts factories are concentrated, Singapore, which plays a key role in expanding sales to ASEAN countries and India, and Germany, which serves as the main hub for all of Europe, overseas employees were able to better understand the importance of EICC, conflict minerals, and other CSR topics.
In FY 2014 training sessions will be held at sales and development bases in the U.S., South Korea, and Taiwan.
CSR training held in 16 countries in FY 2013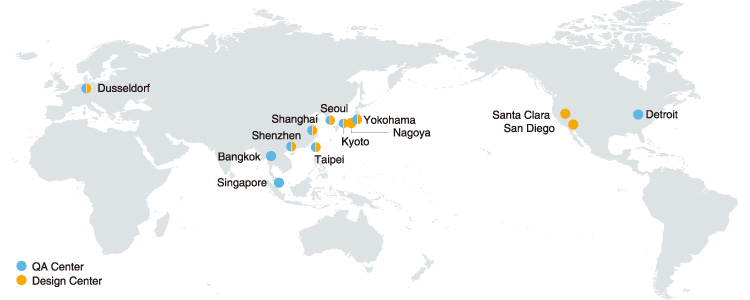 Publication of CSR Guide Book
CSR Guide Book
In July 2014, ROHM created a "CSR Guide Book" so that its employees could reconfirm the company's various policies and rules, systems, and standard international norms of CSR (e.g., UN Global Compact, ISO26000, EICC Code of Conduct).
This brochure was distributed to all employees, and study sessions were held in each workplace to promote awareness and penetration of the content.