csr-environment-product
Home

>
ECO-friendly Products/ Activities
Eco-friendly products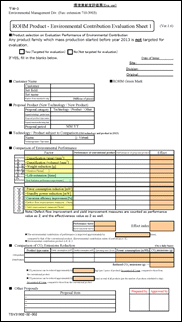 With a goal of resolving social issues through innovative products, the ROHM Group has developed an environmental contribution evaluation sheet to numerically and objectively assess the extent to which new products contribute to the environment compared with previous modelsin the new product development stage, and is building a system for comparing environmental and CO2 reduction performance.In particular, the introduction of a mechanism to improve the development ratio of eco-friendly products that can reduce CO2 emissions during usage is being promoted in collaboration with the development department, and in FY 2015 this ratio reached 88%.
Management of chemical substances in products

The RoHS directive (Restriction of Hazardous Substances), REACH regulation (Regulation on Registration, Evaluation, Authorisation and Restriction of Chemicals), and other laws and regulations related to the management of environmentally hazardous substances come into effect. When developing products, the global environmental load must be considered.
ROHM pursues green procurement and endeavors to increase the detection accuracy of chemicals contained in parts and procured materials while at the same time placing great importance on the internal chemical management system that was built to ensure that no prohibited substances are procured, used, or shipped in order to provide a steady supply of worry-free products.
Environmental training for employees at overseas sales bases
Training at a sales base in Thailand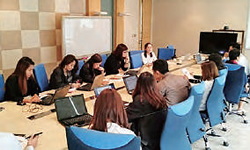 The ROHM Group continues to manage environmentally hazardous substances to ensure the safe use of our products by customers.
At sales bases that are our point of contact with overseas customers, we teach about the environmentally hazardous substance management system and the importance of connecting with business partners in an effort to increase employees' knowledge about the environment.