csr-environment-communication
Home

>
Environment-related Communication
Environmental conservation classes for elementary school students
Experimental kit using ROHM LEDs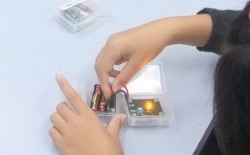 Since FY 2010 ROHM has been conducting environmental conservation classes for elementary school students in Kyoto. Classes are held at the schools, and in addition to lessons on topics such as the mechanisms of global warming and actions children can take at home and at school to save energy, experiments are performed using ROHM LEDs. During the experiments, the children can compare the amount of power used in LED bulbs versus miniature bulbs using a manual power generator, giving them a chance to see the energy-saving effects for themselves.
In FY 2014, around 170 students from three schools took part in ROHM's environmental classes.We are planning to expand this "environmental conservation class" to our overseas group company this year.
Environment poster contest
The ROHM Group has dedicated the month of June, in which World Environment Day falls, as Environment Month, and has held a ROHM Group Environmental Poster Contest as one of the events every year. One Grand Prize and two Awards of Excellence are given to preliminary poster winners from each group company.
2013 Grand Prize Poster Winner
2014 Grand Prize Poster Winner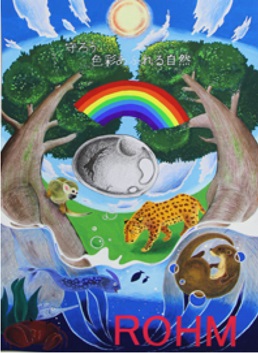 2015 Grand Prize Poster Winner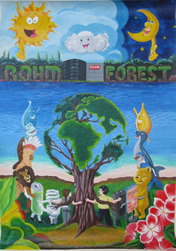 2016 Grand Prize Poster Winner