csr-environment
Home

>
Environmental Management System
ROHM's Approaches toward Global Environmental Conservation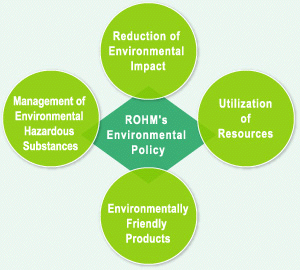 The environmental policy of the ROHM Group states: "We will always consider the global environment and contribute to the healthy continuation of humankind as well as to long-term business prosperity." Each year we set environmental targets and pursue conservation activities.
Environmental Data Book – Details for Environmental Information-
Environmental Management System
The ROHM Group is building a group-wide environmental management system based on the ISO14001 environmental international standard so that all group companies and employees continuously strive to improve the environment and reduce our environmental load. The environmental activities of the ROHM Group are constantly being expanded on a consolidated basis and from a global perspective.
As for ISO14001 certification, ROHM's Head Office was the first to be certified, which came in May 1998. The companies of the ROHM Group individually obtained certification thereafter. However, in order to make clear the efforts of each group company and the efforts of the entire group, and centralize effective environmental activities and information, not by individually addressing environmental problems as group companies but by addressing them as problems of the entire group, ROHM decided to obtain integrated certification. In November 2000, after review by the Japan Quality Assurance Organization (JQA), ROHM obtained integrated certification under ISO14001 for both the entire group in Japan and ROHM KOREA.
ROHM has also established an environmental management system at its overseas production bases that allows for self-declaration of compliance with ISO14001. The review team at ROHM's Head Office strictly reviews the validity of the self-declaration once a year using a common manual, so that the overseas bases maintain their management systems equivalent to that in Japan. The LAPIS Semiconductor Group and Kionix Inc. in the USA joined the integrated certification in November 2009 and 2013, respectively, and are expanding their activities.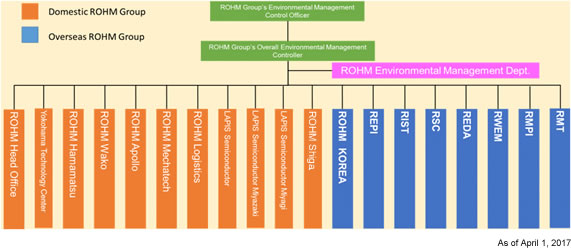 Application for Environmental Management System(PDF:38KB)
Building a Group-coordinated environmental management system
Overall internal environmental audit cross check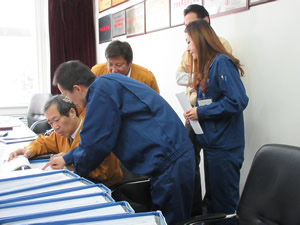 The ROHM Group strives to reduce environmental load by expanding its environmental management system based on the ISO 14001 environmental standard.
In overall internal environmental audits, ROHM auditors verify the efficacy of the environmental management systems and compliance with relevant laws and regulations by group companies, leading to continuous improvements to the system.
From FY 2015 we have raised the level even further by carrying out comprehensive internal environmental audit cross checks inside and outside Japan as mutual auditing by bases while holding Global Environment Liaison Meetings attended by environmental managers from around the world who share the latest environmental regulations and other trends along with progressive initiatives within the Group.
Supervisor for overseeing overall internal environmental audit cross-checks
In November 2015, we performed overall internal environmental audit cross-checks in China, between the production bases in Dalian and Tianjin.
The cross-checks involve each base checking the other's environmental management system operation and workplace management conditions, and are intended to share progressive initiatives. This proved extremely useful as we were able to check for safer chemical storage methods and a management approach aimed at achieving environmental targets directly on-site.
We will continue using this experience to raise the level of our knowledge and skills related to the environment and further improve the Group's environmental management systems.
Environment & Management Department,
ROHM Electronics Dalian Co., Ltd.
Jiang Li Bin