csr-employment
Home

>
Respect for human rights and diversity in employment
Respecting human rights and diversity of employees to increase corporate value
The ROHM Group respects the Fundamental Principles and Rights at Work declared by the International Labor Organization (ILO). As standards in its Labor Policy, the Group has specified respect for human rights and the prohibition of discriminatory treatment, freedom of choice in employment, prohibition of child labor, and freedom of association, and has declared that it will protect the humanity and individuality of each employee while building a comfortable work environment.
Promotion of Global Human Resource Recruitment
At ROHM, we strive to promote the improvement of standards in each field of our endeavors and diversity to expand our global business by recruiting foreign nationals with the skills and expertise we feel are necessary in the fields of research, technology, marketing and management.
Moreover, we are involved in career events to recruit Japanese students who studied long term at universities abroad. We are also supporting the "Tobitate!(Leap for Tomorrow)Study Abroad Initiative" program,which was initiated by the Ministry of Education, Culture, Sports, Science and Technology as part of a public-private partnership program to promote sending students to universities abroad from 2014 to 2016.

Action Plan for Women's Active Participation
As the Act on Promotion of Women's Active Participation went into effect on April 1st, 2016, we have created an action plan based on this act and announced it inside and outside the company.
In addition, the Director of human resources headquarters policy for FY 2017 promotes the attainment of the "Kurumin" next-generation supporter mark※ based on the General Business Owner Action Plan※. We also plan to launch the Promotion of Women's Participation and Advancement in the Workplace Project in April. Moreover, in order to realize work styles tailored to diverse values, we have announced in-house goals related to workstyle reforms. The ROHM Group is currently working toward realizing these goals.
(※)Kuruminnext-generation supporter mark
It is a symbol certified and identified by Minister of Health, Labor and Welfare in Japan as a company that provides childcare support in accordance with the Japanese Act for Measures to Support the Development of the Next Generation.
(※) General Business Owner Action Plan
Companies establish and act based this action plan to create a pleasant working environment for all employees by enabling employees to continue to work and make full use of their abilities while raising children.
ROHM Co., Ltd. General Employer Action Plans (Excerpt)
Plan period: April 1st, 2016 to March 31st, 2018
Goal 1: Increase the percentage for female graduate recruitment to 35% or more .


(expected percentage for 2016: 26%)

Goal 2: Introduce a training program to foster female candidates for managerial positions.
Goal 3: Expand the support system for women who wish to continue working and be proactive in their roles.
Goal 4: Increase the opportunity for men to take childcare leave.


(zero in FY 2016 and two in FY 2017)
Striving to ensure Decent Work
As set forth in its Basic Management Policy, ROHM's goal is to 'maintain healthy and vigorous lifestyles and refine intellect and humanitarianism, thereby contributing to society,' and has designated a Decent Work Task Force to help ROHM achieve this goal. This task force has a committee function that oversees labor and ethics management systems. In addition to carrying out activities to prevent overworking, such as establishing working hour management targets, introducing a 'Refresh Day,' and providing employee education, the task force verifies the effects of its activities through risk assessments and internal audits and submits a report during management reviews.
Decent Work:
A major 21st century labor and ethics goal proposed by the International Labor Organization regarding the availability of employment under conditions of freedom, equity, security, and human dignity.
Establishment of Goals and Directions for Work Hours to Improve Productivity
In order to promote workstyle reforms, we have adopted three goals and guidelines related to work hours that are being implemented at all of our offices.
1. Set overtime work hours to less than 20 hours per month on average per department and less than 60 hours on average per three months for each person.
2. As a general rule, every Wednesday will be designated as no overtime day and employees are encouraged to leave work at a set time.
3. Promote the taking of paid leave. (goal for 2017: 65%)
We are building a corporate culture where employees are able to take the lead in reforming work styles. In order for this to happen, the company-wide, cross-organizational "Decent Work Task Force" will take the lead in sharing information on monthly employee work records among all the departments. This will consolidate efforts to increase productivity among each department and disseminate successful examples across the company.
Employing people with disabilities
Employment Rate for People with Disabilities(%)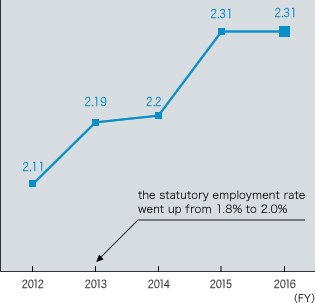 Domestic companies in the ROHM Group seek to create an environment that enables people with disabilities make full use of their abilities, and make efforts to employ people with disabilities.
Before the statutory employment rate went up from 1.8% to 2.0% in 2013, we maintained an employment rate of more than 2%. In FY 2016, the employment rate of the entire domestic group has been 2.31%.
Promoting work-life balance
ROHM is creating programs to enable continuous employment through life events such as marriage, pregnancy, childbirth, child-rearing, and nursing care. ROHM has also established a system for moving work start and end times up or down in order to increase the flexibility of working hours to make room for child-rearing and/or nursing care. Moreover, ROHM have been implementing a program for promoting paternity leave that makes a portion of leave a paid holiday.
Comments from an Employee Who Took Parental Leave
Our son was born in March of 2016 and although I was able to take three days of paternity leave, I never had the intention to take childcare leave at all. But encouraged by my boss and colleagues, I decided it would be a good opportunity to take leave once my work had settled down and took some time in September.
Unlike child rearing after work on weekdays and weekends, taking a fixed amount of time off allowed me to spend time with my three family members talking about our son's growth. By spending time together, I began to appreciate my wife's efforts and her feelings.
Chief, Human Resources Headquarters
Takafumi Asano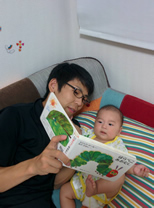 Employee Support Center
A support center has been established in the Personnel Division to receive complaints and questions from employees. Counseling staff are available for consultations concerning career issues, interpersonal relations at work, and any harassment by phone, e-mail and in person. A female counseling staff member is also available. Most members of the counseling staff have been officially certified as employment counselors, making them part of a system that provides highly professional advice to employees.