csr-education
Home

>
Human Resources Development
Company Mission and Policies
Company Mission Workshopat factories and distributors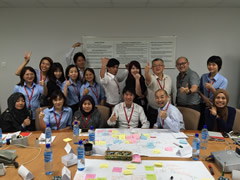 In order to contribute to the advancement of culture through the practice of its mission and policies, ROHM incorporates into its training program education and training opportunities that deepen understanding through discussion. In FY 2016, a Company Mission Workshop(CMW) was held at each company, and development training for trainers who communicate corporate goals and policies to employees was held.
Giving each and every employee the ways and means to understand the company mission and policies, and the actions and practices needed to achieve supports ROHM's corporate activities and lead to CSV (Creating Shared Value).
Education and Training System
At ROHM, the following system for education and training has been established in order to realize our corporate goals and direction.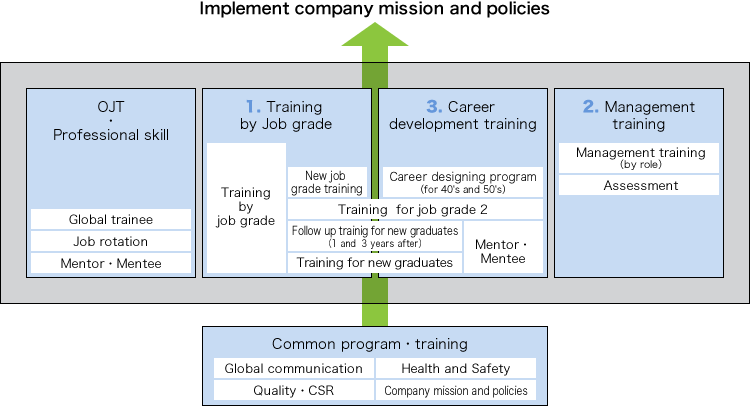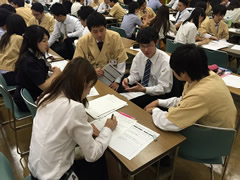 Follow-Up Training (One Year Later / Three Years Later)
Purpose: To follow up on individuals' growth process under guidance from their seniors within the first three years and to advise them on how they can become an asset to the company.
Target: All new graduate full-time employees (major career path, limited career path, professional expertise path)
Contents: One year follow-up (classroom learning, work introduction, looking back on the first year), three year follow-up (looking back over the past three years, EQ feedback, changes in roles)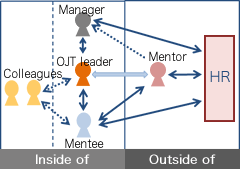 Mentor / Mentee
Purpose: To foster a culture of human resource development through developing new employees.
Target: All new employees (mentees), senior employees selected from each department (mentors/on the job training leaders)
Contents: More than one mentor and on the job training leader will work with one mentee to develop and train him or her continuously in a systematic manner.
In-House English School / Overseas Language Study
Purpose: To provide the educational opportunities necessary to acquire language skills as part of a support system not only for those who need them for business but also for those who wish to improve their language skills. Also to develop human resources who can compete in the global market.
Target: In-Company English School: For all employees, Overseas Language Study: For major career path employees.
Contents: In-House English School: In-house classes by language school instructors, Overseas Language Study: Short-term overseas studies in the Philippines (English) and Dalian (Chinese) for major career path employees.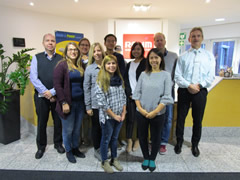 Global Training Program
Purpose: To acquire a global perspective from early on that will be needed for conducting collaborative work with companies in other countries in the future.
Target: Employees up to grade 2 who have worked three or more years in the ROHM Group.
Contents: Sending young employees overseas for a short period of time to gain practical experience by working under a local manager.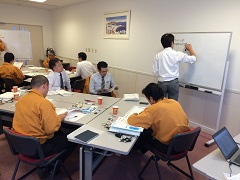 Management training (by role)
Purpose:Acquire basic knowledge and skill required for manager. Get the result by motivating team and staff through good communication.
Target:Managers
Contents:Basic knowledge and skill required for manager, Principle of management.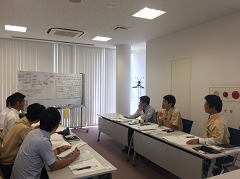 Assessment of management skill
Purpose:Assessed management skill and analyse strength and weakness. Have good observation for own management style to change organization management better.
Target:Managers
Contents:Assessment by the third party
Target theme for Department manager:Problem-solving leader
Target theme for Division manager:Co-creative leader
Global Training Program Trainee and supervisor at the host base
I applied for the Global Training Program and was transferred to the US development base as an engineer. I learned that active communication and autonomous action are essential for building trust with members who have different approaches and customs from my own. I want to continue striving to maintain a global perspective and be able to work in a broad sphere that crosses borders.
[Left side : Trainee]
Module Technology Department,
Sensor Development Division,
Module Production Headquarters, ROHM Co.,Ltd.
Tsuyoshi Satomi
I believe that this program is useful for deepening mutual understanding and also effective for increasing skills and knowledge. Communication between groups is becoming much smoother than before as the number of trainees increases, and I can truly sense how this will create new value.
[Right side : Host Base]
Senior Director, Systems & Applications,
US Design Center, ROHM Semiconductor
U.S.A., LLC
Satya Dixit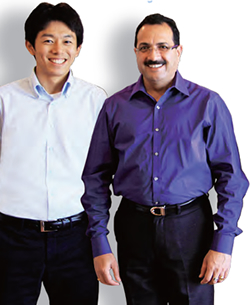 Developing Human Resources in India and the ASEAN Region
Cross-cultural Orientation Training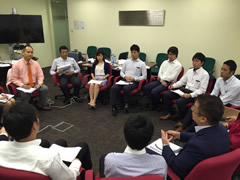 We are promoting a sense of integrity within the ROHM Group's human resources by organizing various trainings and events with local organizations. This will help to improve skills, increase motivation and expand the networks of both the employees assigned abroad and local employees.
Promotion of Hiring Retired Employees
Conforming to the Law Concerning Stabilization of Employment of Senior Persons, ROHM has introduced the Continued Employment System after retirement for those who would like to work after 60 to extend their employment up until the age of 65.
Moreover, based on the idea of supporting initiatives for their careers, a senior life supporting system has also been introduced. Together with career training for employees in their forties and fifties, a guidance system for a career path that employees envision is provided.。