csr-community
Home

>
Disaster area relief efforts
Relief for flood-stricken areas in Malaysia
In December 2014, the Northeast region of the Malay Peninsula in Malaysia was hit by severe flooding. The ROHM Group donated approximately 5 million yen to the Kelantan government to assist victims of the disaster and aid in the recovery of flooded areas. Led by the CSR Promotion Committee comprised of company employees, the production company in Malaysia donated emergency supplies such as water and food to local residents, and around 80 employees participated in cleanup activities at local schools for disabled children.
Donations at a local elementary school
Sponsoring the Red Bear Survival Camp
ROHM's Thai production company helped sponsor the Red Bear Survival Camp (co-organized by the Japan Foundation Bangkok Japan Culture Center and Plus Arts NPO), where children have fun while learning how to survive a disaster. As many as 160 elementary school students participated, with ROHM employees volunteering as teachers.
Children participating in an organized event at an elementary school in Bangkok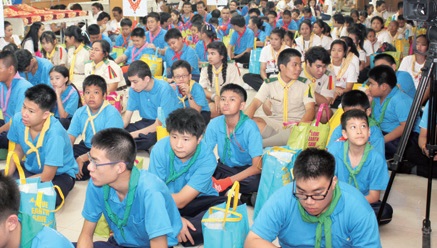 Workshop teaching the importance of teamwork through fun games
Working together with children to improve local disaster readiness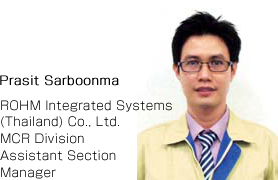 Since 2011, Thailand has been hit by floods, earthquakes, and other natural disasters, increasing the need for disaster prevention knowledge. We participated in the Red Bear Survival Camp where children, who represent the future, have fun while learning what to do in the event of a natural disaster. I hope that the children were able to increase their disaster readiness and will share their newfound knowledge with those around them to increase the level of response and readiness of their entire community. We felt a great sense of pride in being able to contribute to local society through such an activity.
Disaster area reconstruction support efforts
Disaster Area Benefit Concert(Ishinomaki, Miyagi)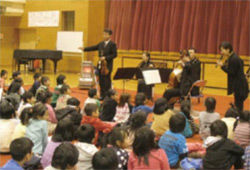 In 2011 and 2012, the ROHM Music Foundation promoted benefit concerts inareas destroyed by the Great East Japan Earthquake to give hope through music to people affected by the disaster. A total of 85 concerts were held in 75 locations by 27 orchestras and brass bands from around Japan, delivering heartwarming music to about 25,000 people.
ArigatoBon program
Since December 2012, the ROHM Group has supported the ArigatoBon project run by Shinrai Zaidan, and participated in a number of activities. ArigatoBon is a charitable program that contributes to society by donating books, CDs and other items no longer needed.
As of March 2017 over 25,000 donated items have been collected at domestic ROHM Group companies, and the support network for children affected by the Great East Japan Earthquake continues to grow.
ArigatoBon Logo