csr-active
Home

>
Activities to reduce environmental load
Reducing CO2 and other greenhouse gas emissions throughout the value chain
COP21※ was held in 2015. In response to measures required to combat global warming and climate change on a global scale, the ROHM Group is increasing its transparency of equipment power usage and office energy consumption to reduce excess energy use while actively striving to cut down emissions of CO2 and of PFC gases that have an even more severe greenhouse effect.
To reduce the level of CO2 emissions from all business activities, ROHM expanded the range of its estimates to cover Scopes 1 and 2 as well as Scope 3, calculating CO2 emissions for the entire value chain.
(※) COP21・・・21st Conference of Parties of United Nations (UN) Conventions for the UN Framework Convention on Climate Change. At the conference held in Paris, France in November 2015, an international framework for measures to combat global warming from 2020 was adopted.
Detailed information about the environment
Changes in CO2 Emissions by Energy Consumption
Regarding external evaluation
Verication Report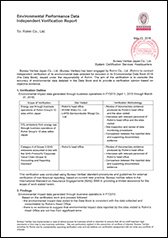 ROHM received third-party verification of its environmental impact data by Bureau Veritas Japan in order to provide information disclosure to society in a more transparent and reliable manner.
ROHM has also been participating in CDP Climate Change since FY 2012 and makes every effort for information disclosure, receiving top marks in FY 2016.
We have also been participating in the CDP Water Program from FY 2015 and were able to achieve an Arank, top class evaluation in FY 2015 and 2016.
Reducing waste emissions and promoting resource recycling
Regarding measures to reduce the volume of waste, ROHM Group companies optimize the amount of incoming and secondary materials and strive to increase yield as well as thoroughly separate unneeded materials generated to obtain valuable resources.
In addition, the ROHM Group has defined a waste recycling rate of at least 99% as "zero emissions." And after reaching this target at all domestic companies in 2004, the group continues to strive towards a true 100% recycling rate. (99.98% in FY 2015)
Reduction of VOCs and chemical substances subject to the PRTR
Organic solvents required for semiconductor manufacturing processes are classified as volatile organic compounds (VOC). VOCs released into the atmosphere may generate photochemical smog. The ROHM Group cuts VOC use through modifications and improvements in processing as well as through activities such as installing VOC removal systems.

Although many chemicals are used in the manufacturing process of semiconductors, ROHM promotes activities to reduce in particular the use of substances subject to the PRTR (Class I Designated Chemical Substances) by setting specific numerical targets.
The real unit cost of production (*) for substances subject to the PRTR (Class I Designated Chemical Substances) in 2015, which is a target item at ROHM's Head Office, was reduced by approximately 12.7% compared to the 2014 benchmark.
(*) Real unit cost of production = Transaction volume of chemical substances subject to the PRTR ÷ Real cost of production (Cost of production ÷ Corporate goods price index)
Preserving Water Sources
Industrial wastewater is neutralized chemically before discharging. To enhance environmental conservation around the discharge area in rivers, ROHM uses a Closed Treatment System, which concentrates the treated water and then evaporates it completely using a special drier.
The ROHM Group has implemented this system at production factories near Lake Laguna, one of the most important lakes under the Philippines' environmental administration, helping to preserve the local aquatic environment.
In addition, industrial and ground water from ROHM plants are turned into ultra-pure water for cleaning semiconductors, and after use is relatively free of impurities, making it possible to recycle up to roughly 40% of the total water intake. And activities such as cultivating technology that may help reduce the amount of water consumed by production equipment are also being conducted in order to minimize water consumption.